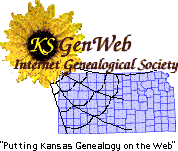 ---
Welcome to Brown County Kansas, below are links to different sites on the web that pertain to Brown County, along with sites that have information that I have uploaded. Stay tuned as more sites and information will be added on a regular basis. If you know of other sites that deal with Brown County pleases contact Lisa Owen's or if you have any interesting tidbits/facts that you may want to share please contact me.
---
Brown County HIstory
Brown County in the Civil War
Kansas Sites on the web
Native Americans of Brown County
Brown County sites on the web
Genealogical and Historical Societies of Brown Co & other important address's (this also has info on books for sale by the genealogical society and info on obtaining copies of obits.and Funeral Home address's).
Vitals Records for Brown County Kansas
Brown County Obits



---
Brown County, Kansas History
History of the different towns in Brown County
Hiawatha, Kansas - this page includes brief histories and pictures of some of the historical sites of this town
Brown County History comp. by E.N. Morrill in 1876


---
Civil War in Brown County Kansas
Residents who volunteered for the army
Martyrs drafted from Brown County
1883 List of Pensioners from Brown County
World War 11 Casualties from Brown County
---
Vital Records for Brown County Kansas

Deaths in Brown County for:
1907 | 1908 | 1909 | 1910 | 1911 |
---
Native Americans in Brown County
Kickapoo census records for 1891-1903 and 1905-1940 lookups
Ioway tribe of Kansas and Nebraska
Indian Graves and Cemeteries
Indian Missions in Kansas
Indian Agencies and Villages in Kansas
Cutlers History of the Brown Co.,Kansas Indian tribes
---

Brown County Sites on the web

Hiawatha High School
Brown County Genealogy sites LYCOS)
Brown County Place Names
Brown County Kansas Place Index Map
Kansas Community Network
Robinson Middle School
Kansas Counties - Brown
1878 Brown County Map

---
Kansas sites on the web related to Genealogy
Kansas genealogy links
Cyndi's List of Genealogy relating to Kansas
Kansas Historical and Genealogical Societies
John Rigdons Genealogical sites on the Web
United States Resources-Kansas
Cutlers History of the state of Kansas
Everton's Sources of Genealogical Information in Kansas
Old West Kansas
Pioneer Trail
Kansas State Historical Society State Archives
Where to Write for Vital Records - Kansas
Kansas Heritage Server.
Family History (all with Kansas ties)

---
Genealogical and Historical Society and other important addess's

Brown County Courthouse
601 Oregon St
Hiwatha, Ks. 66434
Co. Clerk Office 785-742-2581
Reg. of Deeds Office 785-742-3741

To obtain copies of Marriages certificates, please contact:
District Clerk Office
601 Oregon St.
Hiawatha, Ks 66434
Ph #785-742-7481

Libraries located in Brown County
Horton Free Library
809 First Ave. East
Horton, Ks 66439
Obtain general information on Horton Free Library

Morrill Public Library
431 Oregon
Hiwatha, Ks 66434
Ph # 785-742-3831
Obtain general information on the Morrill Public Library.
The library has the obit file for up to 1951 and they have the newspapers on microfilm. If you need a copy of an obit prior to 1952 please contact them for information on obtaining copies.
The Brown County Genealogical Society is in the process of indexing all the obits, marriages, and birth announcements for all years. The Horton newspaper office donated all the obits that they had to the society so they could index them also. This project will take some time so please be patient. And should you have any questions please contact the Brown County Genealogical Society.
Genealogical and Historical Soc. address's and info
Brown County, Kansas Genealogical Society
116 S. 7th Street
Hiawatha, Kansas 66434
Ph. 785-742-7511
Hours: 9 - 4 Tues thru Friday, 9 - 3 Saturday, 6 -8:30 Thursday evenings or by appointment

Brown County, Kansas Historical Society
611 Utah Street
Hiawatha, Kansas 66434
The Brown County Kansas Genealogical Society dues are $10.00 per year for individual or $15.00 per year for family. Should you have any further questions please contact Sandy Carter.
The Brown County Genealogical Society have the followings books for sale: ( contact either the genealogical society or Sandy Carter if you have any questions.)
Cemetery records of Brown County, Kansas, Vol. 1 $15.00
Marriage Records A & B 7/30/1857 to 4/29/1880 $15.00
Marriage Records C & D 6/1880 to 1/1/1889 $15.00
Marriage Records E & F 1/1/1889 to 1/1/1895 $15.00
The Civil War & Your Ancestors $2.00
Memories of Pohattan, 1886-1972 $3.00
Township Maps of Brown County, 1887 $10.00
Brown County Civil War, 1861-1865 $10.00
1860 Federal Census (w/ index) $10.00

Kansas Genealogical & Historical Societies Online
Funeral Homes located in Brown County, Kansas:
Chapel Oaks Funeral Home
519 N 1st
Hiawatha, Ks 66434
785-742-2212
Chapel Oaks Funeral Home
1720 1st Ave East
Horton, Ks 66439
785-486-2843
Dishon Mapel Chaney Mortuary
90 Central Ave
Horton, Ks 66439
785-486-3811
Framke-Casselman-Meeks Funeral Home
124 S. 7th
Hiawatha, Ks 66434
785-742-2188
---
Should you have any questions of comments please contact

Lisa Owens
Page last updated March 26, 2000

---