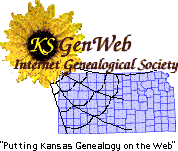 Crawford County
History

Founding of Crawford County
Crawford County was organized on February 13, 1867 as a 23 by 26 mile block of territory being carved out of Cherokee County and Bourbon County, thru an act by the Kansas Legislature. The county was named in honor of Samuel J. Crawford, Governor of Kansas at the time being elected in 1864. Crawford was a Civil War veteran and after serving as governor for four years, retired and lead the 19th Kansas Calvary during the Indian Wars of 1868-1869.
The first County seat was located by Gov. Crawford on the bank of Lightning Creek, two miles west and half a mile north of the present site of Girard. It was called Crawfordsville. The following men were appointed special commissioners to organize the county. J. W. WALLACE, chairman; Lafayette MANLOVE (the founder of Monmouth) and Henry SCHOEN.
A special election was held on April 15, 1867 and the following county officers were elected. James WAMSLEY, probate judge; Lafayette MANLOVE, county clerk; Samuel J. LANGDON, county treasurer; W. H. RYAN, sheriff and D. W. CROUSE, Joseph CARSON, J. D. JOHNSON, William GASS, E. P. WILEY and Jespy EVERETTS, justices of the peace. The first meeting of the Crawford County Commissioners was held at the home of William CAMPBELL on March 16, 1867.
Soon after Girard was founded and began to compete for the title of county seat, despite the fact that Governor Crawford had designated Crawfordsville. On November 5, 1867, an election was held and Girard became the new county seat. However, the election was declared illegal since it lacked a petition from the people calling for a special election and the county records were ordered back to Crawfordsville.
On November 8, 1868, a petition was presented to the county commissioners with 577 citizens signatures, requesting a special election be held to determine once and for all the location of the county seat. The election was held on December 15, 1868 with Crawfordsville getting 312 votes and Girard getting 375. Thus, Girard became the county seat, resulting in the demise of Crawfordsville. There in nothing left today to indicate the site of Crawfordsville.
---
Historical Places in Crawford County
The 1881 St Aloysius Catholic Church at Greenbush is nicely restored. Next to it are the ruins of the larger 1902 stone church which burned in 1982.
Historic Cato in the northern part of the county, founded in 1859 is the oldest settlement in the county. The only thing left is the old schoolhouse which is now the community center.
Hotel Stilwell 701 North Broadway, Pittsburg was built in 1887 and was the focal point of the community. Several famous people stayed in it rooms including Teddy Roosevelt, Carrie Nation and William Jenning Bryan. The Scopes Monkey Trial was debated on the balcony and in the 1920's the Kansas Governor moved his offices there during a coal strike, conducting official state business within its walls. The hotel closed in the late 1970's and was threatened with the wrecking ball until in 1994 a group of local preservationists rallied around "the grand ole girl" and saved it from destruction. In the Spring of 1997, the hotel will once again open its doors as a social gathering place with the 2nd, 3rd and 4th stories being turned into senior citizen apartments. The first floor will include retail shops and its grand ballroom, now called the Timmons Ballroom, will be host to many banquets and special events. A Stilwell Museum will be located in the lobby.
The Hance White Building located at 2nd and Locust is a building of unique architecture. Built in 1903 to house White's monument and stone business, he put around the windows faces of famous people of Kansas cut out of stone. Included are the Bender family, Mark Twain, Jessie James and Carrie Nation.
Harold Bell Wright House, located at 412 W. Kansas, is currently being restored by the Little Balkans Preservation Guild. When renovated it will house a museum relating to the history of Wright while he was minister here in the 1890's at the First Christian Church and his writing of "The Printer of Udell" which contains references to many people who were living in the Pittsburg area at the time.
The Historic Colonial-Fox Theatre located at 409 North Broadway. Built in 1919 and opened on March 17, 1920, it is the only theatre left in Crawford County.

---

Crawford County Home Page| Kansas GenWeb

History provided by Mark Hill, former County Coordinator.




---