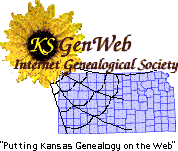 Hail Storm
of
June 1896
---
Lincoln Beacon, June 11, 1896
"Another Hail Storm"
Last Saturday evening between 7 and 8 o'clock a hail storm swept down on Highland, Golden Belt, Valley and Franklin townships, and adjacent parts of Ellsworth county, doing great and permanent damage to this season's crops.
The hail was driven by a stiff, west wind, and in some places smashed clear through shingles and siding.
The wheat, corn, gardens, fruit and window glass are utterly destroyed over most of the 144 square miles mentioned above. Sometimes one or two farms would be skipped, here and there at irregular intervals, but the devastation was sweeping in the four townships.
In places where the wind could make an "eddy" the hail would be drifted by the wind from a foot to four feet deep, while in prairie grass and in the timber, where the wind could not get tight to the ground it lay from four to six inches deep over thousands of acres.
There was the most extraordinary precipitation along the line of this storm ever recorded in the county. From four to six inches of rain fell inside of an hour. The drainage from the hills added to what fell on the open prairie made the open prairie and the fields a series of running streams headed in every direction according to the lay of the land, and from one to three feet deep.
Thousands of chickens and dozens of pigs and calves were either drowned or beaten to death by the hail. Hundreds of jack rabbits were picked up after storm, with legs and ribs broken and skulls smashed in.
Highland
This storm, as near as we can figure out, originated, or at least struck the earth as a hail and wind storm, in the southern part of Pleasant township and was headed south. It seemed to be a different "movement" from an adjacent storm in Russell county. On the township line, just inside Pleasant, all of A.T. Biggs' growing crops were cut to the ground and smashed in.
At Orbitello 14 lights were broken out of the north side windows of the church. D.O. Miller, M.B. Best, J.P. Roulston, Chas. Holle and Paul Matthews lost about everything that had that was growing. In that neighborhood the storm veered to the east and followed almost a due line eastward for 18 miles.
Golden Belt
The sufferers in Golden Belt – those who lost everything – were Fred Plagermann, Lewis Brust, Ed Pugh, James Allen, Patrick Gorman, George Huehl, Charles Krueger, Henry Hayman, Noah Scott, Robert Broker, H. Clinesmith, John Parli. Daniel Kottman lost 200 acres of wheat out of a total of 250 acres, but 100 acres of it was insured.
Vesper
Only the south line of Vesper, like Pleasant and Indiana, was touched, but it made a clean sweep for several miles, taking in William Rahmeier and sons, Carl Reiner, Jacob Winkler, Fred Huetter, Albert Pankau, August, Henry and William Reinert and William Krueger.
Valley
In Valley township the following farmers lost their window glass and everything they had out of doors in the way of crop products: Henry Walker (including 145 acres of wheat), Charles Walters, Fred Eckhardt, John Kottman, J.R. Wolford, Albert Hundertmark, Henry Osterman, Henry Lantz, Rudolph Voss, William Weinnelager, ---- Douglass, Henry Benien, Herman Panzer, George Walker, George Walker (nephew of first-named), Henry Walker (cousin of first-named), Barney Dohe, I.M Lyne, William and Charles Krueger, Herman Wacker, Barney Dresselhaus, William Mollenkamp, Otto Olsen and Henry Hosterman.
Indiana
A few of those enumerated for Valley live in the south edge of Indiana, among them Charles Grimm, who lost everything, along with nearly all who were struck, but 60 acres of his wheat was insured. Upon it he will receive $240, having already settled with the adjuster.
Franklin
In Franklin township the wind veered to the south-southeast, taking the force of the storm across the county line. Only the west half the township was seriously damaged, and much of the remainder was untouched. J.H. McFarland, Donley Brothers, John McDonough, Patrick Cannon, Henry Aufdemberg, William Kruckenberg, John Meier, Frank Edenburn, Ernest Hammond, Fred Noble and D.S. Mason were the heaviest losers. Mr. Mason had 125 acres of wheat utterly ruined.
---
Return to Lincoln County Kansas Genealogy main page.
Bill and Diana Sowers
, Lincoln County Coordinators
Tracee Hamilton, Lincoln County Coordinator
---

Home Page for Kansas
Search all of Blue Skyways
---
Copyright 1997, 1998 by Bill and Diana Sowers