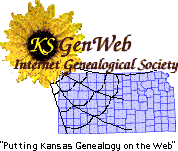 Barnard
Bee
Discontinues
---
"Barnard Bee Discontinues"
From the Lincoln Sentinel-Republican, Nov. 12, 1942, Page 1
With last week's issue, the Barnard Bee, one of Lincoln county's four newspapers, discontinued publication and that community will now be without its own newspaper. H.S. Wadham, for nearly 10 years owner and publisher of the Bee, has been at the Norton Sanitarium for the past several weeks and since then his paper was been printed at Lincoln and distributed at Barnard.
Owing to circumstances, Mr. and Mrs. Wadham felt it was impossible to continue the arrangement and sold their subscription list to the Lincoln County News.
The Barnard Bee closed with volume 41, number 26, indicating that the paper had been published for nearly 41 years.
---
Return to:[Lincoln County Kansas Genealogy][Lincoln County Kansas Queries]
---
Bill and Diana Sowers
, Lincoln County Coordinators
Tracee Hamilton, Lincoln County Coordinator
---

Home Page for Kansas
Search all of Blue Skyways
---
Copyright 1997, 1998 by Bill and Diana Sowers