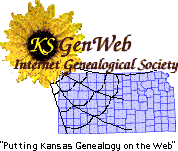 St. Patrick's
Catholic Church
Bell
---
"History of St. Patrick's Bell"
From the Lincoln Sentinel, Jan. 26, 1939
History of St. Patrick's recently acquired bell was received last week in a letter to W.S. Markle, U.P. agent at Sylvan Grove, from C.P. Cahill, superintendent of the Omaha division. A portion of the letter follows:
"Donation of this bell was approved by Mr. J.W. Burnett, General Superintendent Motive Power and Machinery, Omaha, Neb., and Mr. N.A. Williams, General Manager, Omaha.
"The bell was released from switch engine 4403, which was built in April 1913 by Baldwin Locomotive Company, and retired from sevice in December 1936, this engine having performed service in various yards on Nebraska Division, such as Omaha, North Platte and Cheyenne.
"Tractive effort of this engine was 27,276 pounds, weight 154,682 pounds, as compared with tractive effort of 39,1000 and weight of 165,000 pounds of the more modern switch engines."
---
Return to:[Lincoln County Kansas Genealogy][Lincoln County Kansas Queries]
---
Bill and Diana Sowers
, Lincoln County Coordinators
Tracee Hamilton, Lincoln County Coordinator
---

Home Page for Kansas
Search all of Blue Skyways
---
Copyright 1997, 1998 by Bill and Diana Sowers