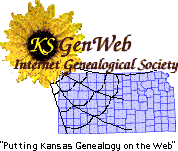 Tribute to
Rev. H.C.
Bradbury
---
(An editorial from the Topeka Daily Capital, reprinted in the Lincoln Sentinel, June 7, 1923
One of Kansas' Builders
There died last week in Kansas a man of remarkable character whose services to the northern part of the state for upwards of 40 years were worthy of the memorial service held in his honor yesterday by the Sunday school of the First Presbyterian Church, whose missionary he was.
H.C. Bradbury came of wealthy people in New York, was educated at Amherst College and Andover Theological Seminary, entered slum work in New York City and soon as a young man came to Kansas to lay foundations for churches and Sunday schools on the frontiers of the state. That was more than 40 years ago. He inherited two moderate fortunes and invested them in his work, dying as he had lived dependent upon the small renumeration paid to him as a missionary church builder. He never held a pastorate, leaving when a church had been established to lay the foundations of another. He was an unworldly man, of the greatest simplicity, with a singleness and integrity of purpose that set him apart. He was anything but a practical man, yet his work will live after him and is a part of Kansas.
Many amusing stories are told of H.C. Bradbury. With all his simplicity he was the hero of episodes which in an early day enhanced his prestige among the people for whom he labored. On Johnston day at the Chamber of Commerce Forum, Chief Justice Johnston told a story of Bradbury's first appearance in Kansas at Minneapolis. As a tenderfoot a job was put up on him by the boys of Minneapolis which was a favorite stunt at the time. He was steered up against an amateur boxer of local fame. But after some sparring Bradbury knocked the local champion cold. It was remarked of him by Dr. Estey in the memorial service yesterday that he was the only Presbyterian minister who knelt at the puplit in prayer, and this was a familiar scene in the First Presbyterian church when Mr. Bradbury visited to report on his work. A Presbyterian woman said of him that she had the feeling that the oof might easily open and Bradbury ascend, as he knelt praying fervently for the spread of the Kingdom of God, like Elijah, with heavenly chariots and horsemen. Recently he visited California and while there was advised by friends that in the California climate he would live 10 years longer. "If it is just the same with you," he replied, "I would rather spend those 10 years in heaven."
Such a man merits remembrance and honor, and has left a memorial in many a church spire in northern Kansas all up the Solomon Valley and beyond to testify of his labors. He was a builder on deep and lasting foundations.
---
Return to:[Lincoln County Kansas Genealogy][Lincoln County Kansas Queries]
---
Bill and Diana Sowers
, Lincoln County Coordinators
Tracee Hamilton, Lincoln County Coordinator
---

Home Page for Kansas
Search all of Blue Skyways
---
Copyright 1997, 1998 by Bill and Diana Sowers