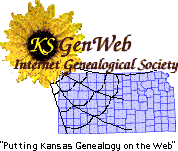 Dora Wade's
Bequest to
Lincoln Cemetery
---
Lincoln County News, 6 January 1944

The will of Mrs. Dora M. Wade, who was killed in an automobile accident northeast of Lincoln about a year ago, was admitted to probate recently. Besides making bequests to several churches in Lincoln county, Mrs. Wade left $50 to be used in the "upkeep of the Lincoln cemetery." So far as is known this is the first time such a bequest was ever made to the Lincoln cemetery. City officials are somewhat at a loss as just how to apply the money to the upkeep of the cemetery, but as the city has plans on foot [sic] to make some improvements at the cemetery in the spring in the form of a new fence along the north side of the cemetery, it has been suggested that the money be used in the erection of the two new gates to be built on each side of the main entrance gate to the cemetery and one of the new gates be dedicated to the memory of Mrs. Wade.
---
Return to:[Lincoln County Kansas Genealogy][Lincoln County Kansas Queries]
---
DO YOU HAVE
QUESTIONS, COMMENTS, CONTRIBUTIONS FOR US?
Bill and Diana Sowers
, Lincoln County Coordinators
Tracee Hamilton, Lincoln County Coordinator
---

Home Page for Kansas
Search all of Blue Skyways
---
Copyright 1997, 1998 by Bill and Diana Sowers