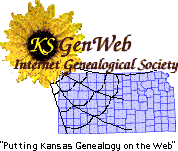 Hanging of
Patrick Cleary
in 1889
---
"Hung by a Mob"
Saline County Journal, 6 June 1889
Hung by a Mob Monday night, Lincoln county was relieved of any further tax or trouble about Pat Cleary, the murderer, by the work of a mob. He was hung from a bridge. The jury failed to agree in his case – standing eleven for conviction to one against. Influenced by fear Cleary afterwards plead [sic] guilty to manslaughter in the third degree, and was sentenced to three years imprisonment. This did not satisfy the people. The mob gathered. Cleary broke away from his guard, several shots being fired at him. He did not escape the mob and was hung as above related. Public opinion ran so high against the juror Harmon, who was for Cleary's acquittal, that the mob would have hung him, could they have found him. Harmon was formerly county superintendent of Lincoln county, and is said to be a man of fair standing in the county.

For more on the Cleary family, click here.
---
Return to:[Lincoln County Kansas Genealogy][Lincoln County Kansas Queries]
---
DO YOU HAVE
QUESTIONS, COMMENTS, CONTRIBUTIONS FOR US?
Bill and Diana Sowers
, Lincoln County Coordinators
Tracee Hamilton, Lincoln County Coordinator
---

Home Page for Kansas
Search all of Blue Skyways
---
Copyright 1997, 1998 by Bill and Diana Sowers