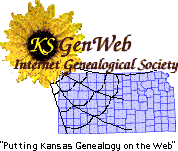 Denmark
Lutheran's
125th Anniversary
---
Lincoln Sentinel-Republican, Oct. 9, 2003
In 125 years this part of the country has seen many changes. Small towns have withered, one-room schools have become consolidated school districts and many friends and neighbors have finished their time on this earth. But one thing has remained constant, the faith of the members of the Denmark Evangelical Lutheran Community Church.
On Sunday, Oct. 26, the church will celebrate its 125th birthday with special services and guest speaker Dr. Paul K. Formo....
The beautiful limestone building housing the congregation stands at the top of the rise of the Spillman Creek valley, where its construction was completed in 1880, with the bell tower and entryway added to the south end of the church in 1901.
The Danish language was used exclusively in the church until the mid 1920s, when occasional services in English were added. In less than a decade services would be provided in English.
An English Sunday School was organized in 1880, dropped in1884 and in 1892 revived, where it flourished unitl population declines forced it to be discontinued in 1977.
In 1911 a community hall was built. It is still used to this day for social functions, but was also used in the past for theatre productions and lectures.
A unique decoration of the Denmark Lutheran Church is the memorial model ship which hangs at the front of the church.
The replica of the Danish Navy training ship, the "Danmark," was given to the church by Arnold and Helena (Wollesen) Duus in 1879 as a memorial to Mr. and Mrs. Sophus Wollesen, pioneer members of the Denmark Church and community.
It is common to find such ships along the seaside churches of Denmark's coastline. The ships were sometimes offerings made by seamen who promised them to their church if saved from a violent storm, while others were models given as memorials. Many were given by seamen who could not afford the decorations give by wealthier farmers or merchants.
Duus learned he could purchase the materials and plans for the model from a company in Denmark and he did. After hours of work and attention to detail he presented the ship to the church for display.
---
Return to:[Lincoln County Kansas Genealogy][Lincoln County Kansas Queries]
---
DO YOU HAVE
QUESTIONS, COMMENTS, CONTRIBUTIONS FOR US?
Bill and Diana Sowers
, Lincoln County Coordinators
Tracee Hamilton, Lincoln County Coordinator
---

Home Page for Kansas
Search all of Blue Skyways
---
Copyright 1997, 1998 by Bill and Diana Sowers