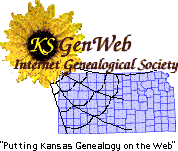 Denmark Church
on Historic
Register
---
"Denmark Church approved as historical site"
From the Lincoln Sentinel-Republican, May 16, 1991
The Kansas State Historical Society has informed trustees of Denmark Lutheran Church that it has been approved by the Kansas Historic Sites Board of Review for nomination to the National Register of Historic Places.
Said trustee Ruth Sorensen, (the church) "has not been admitted to the Kansas Register of Historical Places, but it has only been submitted for nomination to the National Register."
Trustees expect notification from the state historical society when word is received as to the final action taken on the nomination by the keeper of the National Register.
Properties approved for nomination to the National Register are automatically listed in the Register of Historic Kansas Places, according to Sorensen. Since 1981, the Kansas Historic Preservation Act has provided a strengthened review mechanism for projects undertaken by the state which affect properties listed on the National and Kansas registers. The law protects those places from damage or altering or isolation.
The Denmark Evangelical Lutheran Community church stands at the crossroads in Denmark, Lincoln County, in a community settled mainly by Danes in the 1870s. Construction started in 1875, but was not completed until 1880, and along in 1901, the bell tower and entry were added. The building is an example of the gable front, one-story, one-room native limestone buildings that stand throughout the state, said the Kansas Preservation Newsletter for March-April of this year.
---
Return to:[Lincoln County Kansas Genealogy][Lincoln County Kansas Queries]
---
DO YOU HAVE
QUESTIONS, COMMENTS, CONTRIBUTIONS FOR US?
Bill and Diana Sowers
, Lincoln County Coordinators
Tracee Hamilton, Lincoln County Coordinator
---

Home Page for Kansas
Search all of Blue Skyways
---
Copyright 1997, 1998 by Bill and Diana Sowers