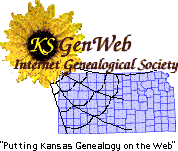 Emmanuel United
Church of Christ
History
---
"Emmanuel Church celebrating 90th year"
From the Lincoln Sentinel-Republican, Aug. 25, 1983
Sunday, August 28, the Emmanuel United Church of Christ congregation will celebrate the 90th anniversary of its founding. …
According to a member of the church congregation, the Emmanuel Evangelical German Church was organized June 6, 1893, in the Lone Rock schoolhouse located 4½ miles south of Vesper on the present church site.
Five years later, the congregation built a church from native stone, and for the next 54 years worshipped inside its walls. The church was destroyed by a tornado Aug. 7, 1952.
Construction on the present church edifice was begun in 1952 and was completed the following year.
In 1957, the name of the church was changed to Emmanuel United Church of Christ. The Rev. McCreight has served as pastor since 1979.
---
Return to:[Lincoln County Kansas Genealogy][Lincoln County Kansas Queries]
---
DO YOU HAVE
QUESTIONS, COMMENTS, CONTRIBUTIONS FOR US?
Bill and Diana Sowers
, Lincoln County Coordinators
Tracee Hamilton, Lincoln County Coordinator
---

Home Page for Kansas
Search all of Blue Skyways
---
Copyright 1997, 1998 by Bill and Diana Sowers