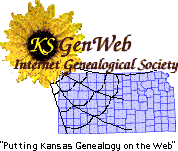 Prairie Fire
of
1879
---
"Old Timer Tells of Prairie Fire"
Lincoln Sentinel-Republican, Sept. 7, 1933, p. 5
A real old-timer who went through the grasshopper invasion and witnessed the prairie fire of 1879 in which he lost his father and a 14-year-old brother was a pleasant caller at this office Monday. He is Mr. E.A. Montgomery, now a resident of Salina. His nephew, Lee Montgomery, lives on a farm northwest of Lincoln.
Mr. Montgomery took a government claim eight miles north and four west of Lincoln. Prairie Grove church is now located on a part of the land.
Settlers plowed out a strip 14 furrows wide around their claim and planted it to hedge trees, according to Mr. Montgomery.
March 13, 1879, was a quiet, hot, sultry day with not a breath of wind rippling the knee-high prairie grass.
About 4 o'clock of that memorable evening Mr. Pfaff brought warning to the Montgomerys that a fire had started northwest of their farm.
In those days fire gave more cause for alarm than it does today. People for miles around came as fast as possible on horseback to fight the flames. There were no telephones. Messages were sent by a boy on foot or on horseback.
Shortly after 4 o'clock a strong northwest wind sprang up, suddenly shattering the death-like silence. It picked up a blazing tumbleweed, hurled it across a gap of plowed field 20 rods wide, and ignited the knee-high dry grass on the Montgomery farm.
Mr. Pfaff, Robert Mongtomery, father of E.A. Montgomery, and Robert E. Montgomery Jr., 14-year-old brother of E.A., went out to backfire against the encroaching flames in hopes of checking them.
The whole field in which they were working became a seething furnace. They were caught between fire of their own making and the fire they were fighting against. Nearby was a mule paralyzed with fright. The family dog stuck loyally with the party.
Robert became separated from his father and Mr. Pfaff. The air was filled with smoke and black cinders. Unable to find Robert, the men got on the mule and started toward the house. Their clothing was burned from their bodies, their skin raising in huge blisters.
They [illegible words] reach the house. Neighbors carred them home. Mr. Montgomery died at 10 o'clock that evening; the charred body of Robert was found in the field where he had been overcome by the heat and smoke.
The fire spread past the Montgomery farm, burning so strongly that it crossed the Saline river. Buildings, trees, anything that would burn went down before it.
---
Return to:[Lincoln County Kansas Genealogy][Lincoln County Kansas Queries]
---
DO YOU HAVE
QUESTIONS, COMMENTS, CONTRIBUTIONS FOR US?
Bill and Diana Sowers
, Lincoln County Coordinators
Tracee Hamilton, Lincoln County Coordinator
---

Home Page for Kansas
Search all of Blue Skyways
---
Copyright 1997, 1998 by Bill and Diana Sowers