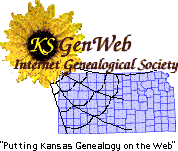 Harmony
Presbyterian Church
Burns
---
From the Lincoln County News, April 6, 1933
Fire of unkown origin destroyed the Harmony Presbyterian church 12 miles north of Lincoln last Friday night. The building was partially insured, and the fire completely destroyed the building. It is another in a series of church fires in Kansas which has continued since last fall. The pulpit at Harmony was filled by Rev. W. Clyde Wolfe of Ellsworth.
---
Return to:[Lincoln County Kansas Genealogy][Lincoln County Kansas Queries]
---
DO YOU HAVE
QUESTIONS, COMMENTS, CONTRIBUTIONS FOR US?
Bill and Diana Sowers
, Lincoln County Coordinators
Tracee Hamilton, Lincoln County Coordinator
---

Home Page for Kansas
Search all of Blue Skyways
---
Copyright 1997, 1998 by Bill and Diana Sowers