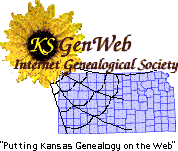 A Sketch
of Judge S.O.
Hinds
---
From the Lincoln Sentinel, Aug. 24, 1911
Sampson Obed Hinds
John Hinds was born in England and emigrated to America, settling in Beaver county, Pa., where on Oct. 5, 1814, his son John Hinds II [words missing here; perhaps "was born. He"] married Elisa Ann Mace in March 1843. She was also born in Beaver county Nov. 30, 1820, of Irish ancestry on the Mace side, and of Scotch McFarland maternal line. The young couple soon moved to Indiana. Eleven children were born to this union, five sons, six daughters, two of the latter dying in infancy.
The children were: Samuel O., Sampson Obed, Orlando F., Lucetta, Samantha, Anna E., Octava C., John S., Jacob A., Mary and Jennie M. The second child, Sampson Obed Hinds, was afterward second judge of the old 14th judicial district of Kansas. He was born Dec. 7, 1845, near Brewersville, Jennings county, Ind, grew up on the farm and received a common school education.
At Brewersville in August 1862, when not yet 17 years of age, young Hinds enlisted in the Union service, in company E., 82nd Indiana Vol. Inf. In March 1863 he was discharged on a surgeonís certificate of disability. But he re-enlisted again as a private in company H., 120th Indiana Vol. Inf. and was discharged under general orders of the war department in 1865 or 1866. He had participated in the battles of Resaca, South Mountain, New Hope church through the campaign to and around Atlanta ending at Jonesboro, returning with General Thomas, having been in all engagements up to Hoodís overthrow at Nashville, Tenn. He served in all about three years.
After his discharge from the army, S.O. Hinds visited a short time in Indiana about his old home and then went to Decatur county, Iowa, whither his parents had moved onto a farm in the fall of 1864 or 1865. He next attended school for three years at Garden Grove and Leon, Iowa, graduating from the high school of the latter place.
He then began the study of law under Judge John W. Harvey, and was admitted to the bar at Leon in Semtpeber 1875, Hon. Samuel Forrey, presiding judge. Meantime he had taught several terms of school and had also married on May 1, 1875, Miss Jennie Rankin of Dexter, Iowa.
In May 1874 he moved overland to Mitchell county, Kan., remaining a short time near Beloit, and thence going to Lincoln Center or Lincoln, where he filed on a claim one mile south of that city and lived on it for five years. He immediately engaged in the practice of law at Lincoln and was at once, in the fall of 1874, elected county attorney of Lincoln county and re-elected in 1876. He was also justice of the peace of Elkhorn township for two years.
His wife died on the homestead, Aug. 3, 1877, leaving their two children, Warren C. and Jessie M. On March 27, 1879, he married Miss Luella A. Gilkison of Terre Haute, Ind. To this union were born four children, Josie G., Franklin J., Homer C. and Alta M., all at Lincoln.
In 1884 the Republicans of the old 14th district nominated him for judge. The district then consisted of the five counties, Lincoln, Russell, Ellsworth, Salina and McPherson. He was elected, succeeding John H. Prescott, who had been judge from the organization of the district in 1872. In 1888 Judge Hinds was defeated for renomination, first by H.E. Shaffer of Wilson, who later found it best to withdraw, and next by W.G. Eastland of Russell, who was elected over R.A. Lovitt, of Salina. But two years earlier the legislature of 1887 had detached McPherson county from the 14th district and connected it with two other counties into the 25th district, of which Frank Doster, afterwards chief justice, was appointed judge by Gov. John A. Martin.
In the spring of 1889 Judge Hinds moved to Muskogee, then in Indian Territory, and engaged in the practice of law at Talequah, Ft. Gibson, McAllister, as well as at Muskogee, and also in the federal court at Fort Smith, Ark., building a considerable practice.
He died at Muskogee, Indian Territory, on Aug. 15, 1895, of pirrhea of the liver, and was buried with Grand Army honors in the National Cemetery at Ft. Gibson, now Oklahoma. The G.A.R. post of Muskogee he had helped to organize, being one of the charter members. He was also a member of the First Presbyterian church. On Sept. 19, 1895, the federal court of Indian Territory, Hon. W.M. Springer, of Indiana, presiding, adopted resolutions of respect.
Judge Hinds was simple in his taste, sympathetic, honest, kindly and always cheerful. He had received a flesh wound in the leg while in the army and was thus rendered lame, but he always refused to apply for a pension, saying that others needed it worse, and never received a pension. His widow some years later married Willie Miller and still resides at Rogers, Ark.
---
Return to:[Lincoln County Kansas Genealogy][Lincoln County Kansas Queries]
---
DO YOU HAVE
QUESTIONS, COMMENTS, CONTRIBUTIONS FOR US?
Bill and Diana Sowers
, Lincoln County Coordinators
Tracee Hamilton, Lincoln County Coordinator
---

Home Page for Kansas
Search all of Blue Skyways
---
Copyright 1997, 1998 by Bill and Diana Sowers