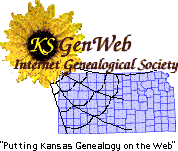 INDIAN RAIDS
IN
LINCOLN COUNTY KANSAS
1864 and 1869
Story of those killed, with a history of the monument erected to
their memory in Lincoln Court House Square, May 30, 1909
by: C. Bernhardt
Originally published:
Lincoln, Kansas - by: The Lincoln Sentinel Print - in: 1910
**********************************************************
complete text transcribed online by Joan Stevenson
for the Lincoln County Kansas GenWeb Page
1998.
Click here to go directly to TABLE OF CONTENTS.
---
We are pleased to present here the text from the 1910 book, Indian Raids in Lincoln County, Kansas, 1864 and 1869. Our thanks go to Joan Stevenson for the hours spent in transcribing this book, a vivid account of the struggles between Native Americans and in-coming settlers in north central Kansas.
This book is a resource for historians as well as genealogists and we encourage you to take the time to read it not only to get an understanding of the events that transpired in Lincoln County at the time of its settlement but also to get an idea of how these violent encounters were remembered and commemorated about 30 years later.
The author, Christian Bernhardt, presents a well researched record of these early days of Kansas relying on official documents, letters and personal accounts available to him. The language and description of events is at times blunt and unsettling, and the presentation naturally reflects the views of the settlers, many of whom were still living at the time of the book's publication.
A biography of Christian Bernhardt, supplied by his great great granddaughter, Sandy Foulke, can be found on the Lincoln County Biograrphy page.
You can begin your look at Mr. Bernhardt's history by going to:

---
Return to:[Lincoln County Kansas Genealogy][Lincoln County Kansas Queries]
---
DO YOU HAVE
QUESTIONS, COMMENTS, CONTRIBUTIONS FOR US?
Bill and Diana Sowers
, Lincoln County Coordinators
Tracee Hamilton, Lincoln County Coordinator
---

Home Page for Kansas
Search all of Blue Skyways
---
Copyright 1997, 1998 by Bill and Diana Sowers