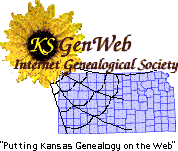 First Kansas Flag
Made By
Lincoln Residents
---
Lincoln County News, 4 February 1943

The Kansas flag, adopted as official by the 1927 legislature, received considerable publicity in connection with the Kansas day celebration at Topeka Sunday, but comparatively few people know that the original copy of the flag was made in Lincoln and is still here.
It was made by Mrs. Hazel Avery, who still has it, and carried in a Fourth of July parade here in 1925. It bears the Kansas seal, surrounded with sunflower petals, and the name Kansas spelled in gold letters above the seal. The field is blue and the state name and seal appear on both sides.
F.A. Cooper, later to receive recognition as a Kansas artist, painted the seals on the cloth. The letters and sunflower petals are cut from cloth and pasted on.
Mrs. Avery recalls that the first flag was a hurry-up job, yet the first Kansas flag is in good condition and very closely resembles the official flag adopted nearly two years later by the legislature.
---
DO YOU HAVE
QUESTIONS, COMMENTS, CONTRIBUTIONS FOR US?
Bill and Diana Sowers
, Lincoln County Coordinators
Tracee Hamilton, Lincoln County Coordinator
---

Home Page for Kansas
Search all of Blue Skyways
---
Copyright 1997, 1998 by Bill and Diana Sowers