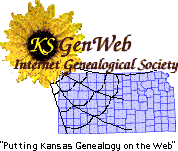 Christ Kruse
Brought German Lutherans
to County
---
Lincoln County News, Oct. 26, 1939
The story of a man who came to Lincoln county almost by chance and remained to become one of the most deliberate and careful community builders the county ever had is one of the most interesting chapters in county history.
The man was Christ Kurse, extraordinary builder of communities, founder of Lutheran churches, and real estate salesman, whose career in this county has left an imprint that will last forever. For he was the man who, more than any other, attracted German people of Lutheran faith to settle south of Lincoln and near Sylvan Grove.
The story of how he came to do it is one of the interesting tales of county history, and one that should be better know. The story is substantially this.
Christ and his brother had been working in Chicago and saving their money. Christ had had a hand in the founding of a Lutheran church for the people of a German community in Chicago and he was known as a substantial and religious young man, thrifty and possessed of a strong belief in the necessity of the church to human well-being.
The Kruse brothers were getting along pretty well at their jobs in Chicago, and had a little money laid by when one day a Kansas land agent came along. Who the agent was or whether he had ever seen Kansas in not known, but he described the state and its advantages in a most encouraging way and the Kruse brothers became interested. They held a conference and decided to take a chance and invest a little money in the farm land of the wonderful new state.
That was in the late '70s. A year or two later, times were slack for Christ and he came out to Kansas to see what he and his brother bought. It was the present Emil Oppliger farm about 2 1/2 miles south of Lincoln. Christ was so well pleased that in 1878 he and his family settled on the farm and later they bought the interest of his brother, who remained in Chicago.
At that time there was hardly half a dozen families of German descent in that part of the county, but Christ Kruse was so enthusiastic about the new land and so full of a desire to tell others of the fertile land and wonderful opportunity that he began advertising in German language papers and periodicals most likely to be read by Lutherans of German descent, inviting others to come out to Lincoln county and make their homes.
The need for a Lutheran church as the center of the community impressed itself so firmly upon Kruse that he and seven other heads of families organized St. Johns Lutheran church in the early '80s. Then, knowing they would have a place of worship, other families from the east began inquiring of the new settlement and coming out to settle there themselves. Kruse became something of a real state man as his advertising began bringing results. Prospective settlers began coming to him and with pioneer hospitality he and Mrs. Kruse took them into their home, sometimes for two or three weeks, while they located farms of their own.
The other seven charter voting members of St. Johns congregation were C. Wiegert, H. Otto, J. Duewel, J. and C. Querfurt, heads of the pioneer families who had been served by Rev. E. Maehr of Ellsworth for about three years.
Keeping the future of St. Johns church always in view, he used his abiltiies as a salesman to sell land nearest the church to devout Lutheran families, and thus laid the foundations for the almost solid community of Lutherans of German descent in southern and southeastern Lincoln county. In the early '90s the full benefits of Kruse's single-handed advertising campaign began to bear fruit and the settlement made rapid growth.
But by that time he was building church and community at Sylvan Grove. It came about when Kruse had a prospect from the east whose name was Fitz Oppliger. Oppliger looked the whole neighborhood over, then said to Kruse:
"There is only one farm I like."
"Which one is that?" asked Kruse.
"Yours," said Oppliger.
So Kruse sold his farm to Oppliger. Shortly afterward, he had two prospects named Meyer and Becker and he wanted to sell Sections 18 and 19 and the west half of 20 in Vesper township, a couple of miles southeast of Sylvan Grove. Meyer and Becker were shrewd traders who had seen the results of Kruse's other community building. Meyer offered to buy Section 19 and Becker Section 18 if Kruse himself would buy a half section and settle there as their neighbor.
Time proved that they knew what they were doing, for Kruse, with his enthusiasm for community building as great as ever, set out to do for the Sylvan Grove German community what he had done near Lincoln. There were more ads in the German language papers, more prospects more land sold, and the Bethlehem Lutheran church, organized the same day as St. Johns and with the same number of families, began the growth that has raised its membership to 150 families.
About 25 years ago, the Kruses visited with a relative in a German settlement in the state of Washington. Again he saw the possibility of building a community. They settled there, and he bought a small tract of land for a church and set about organizing and building a fourth Lutheran church, in whose founding and success he had an active part. He lived there till his death.
And that is the story of Christ Kruse who, more than any other, directed the early course of the thriving communities of good citizens around the Lutheran churches in Lincoln.
---
Return to:[Lincoln County Kansas Genealogy][Lincoln County Kansas Queries]
---
DO YOU HAVE
QUESTIONS, COMMENTS, CONTRIBUTIONS FOR US?
Bill and Diana Sowers
, Lincoln County Coordinators
Tracee Hamilton, Lincoln County Coordinator
---

Home Page for Kansas
Search all of Blue Skyways
---
Copyright 1997, 1998 by Bill and Diana Sowers