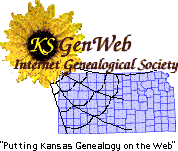 A History
of Lutheranism
in Kansas
---
This excerpt from "Lutheranism in Kansas: History of Kansas Synod," by Rev. H.A. Ott, published in 1907, was submitted by researcher Scott Holl.
Delight, Lincoln county, Ev. Lutheran
This congregation was organized by Rev. J. H. HARPSTER on the 27th of July, 1879, in the home of Wm. STOVER. It was known also as the Madison church. It was admitted the same year. It was a school house church. It never materialized.
Lincoln Center, Lincoln county, Ev. Lutheran
This church was organized September 27th 1880 by Travelling Missionary T. F. DORBLASER, who served it off and on while residing on his farm near Ellsworth. The church contained a number of very substantial families among whom were Mr. and Mrs. Cyrus STOVER, Mrs. J. D. MILLER, Mr and Mrs. Judge ARTMAN, and Mr. and Mrs. WYCOFF. The church was formally admitted into Synod the same year. It was served from 1882 to 1884 by Rev. John A. BRIGHT. After a vacancy of three years, Rev. H. L. YARGER took charge, who reorganized the church, and at which time a lot was bought for $250 and deeded to the Board of Church Extension. A building was never erected, services being held in the school house. In the spring of 1887 Prof. O. G. KLINGER of Salina re-organized the church, but soon leaving, the interest lagged, and the work finally ceased.
Just a word of explanation: The Kansas Synod was the local judiciary for the General Synod of the Evangelical Lutheran Church. This denomination represented the oldest branch of Lutheranism in the U.S., dating back to the arrival of Germans in Pennsylvania in the mid 1600s. Through a series of denominational mergers, these congregations are now represented by the Evangelical Lutheran Church in America, the largest of the U.S. Lutheran bodies and the fourth largest protestant denomination in America.
I believe the settlers mentioned above had difficulties establishing a congregation for the following reasons: Settlers in Lincoln Co. who belonged to this denomination would have probably come from older, established congregations in the eastern mid-west or east coast and would have been thoroughly assimilated into American culture. They would have encountered a large German immigrant population who had established several strong congregations (St. Johns and St. Pauls). Not only did these congregations worship in German exclusively at the time, but their congregations were much more conservative than those of the General Synod. At the time, many General Synod Lutherans did not view themselves as being doctrinally or liturgically different than other mainstream protestants. With other protestant churches in the county forming large congregations (the Methodists especially), the General Synod Lutherans probably found it easier to join one of them rather than establish a separate English speaking Lutheran congregation.
The Lutheran parish my father grew up in, St. Peters north of Shady Bend (formed about 1910 and defunct in the mid-'40s), had a mixture of new German immigrants and older immigrant families and English speaking Lutherans from Pennsylvania. Apparently there was some division over the language issue. Their solution was to worship one week in English, the next in German.
---
Return to:[Lincoln County Kansas Genealogy][Lincoln County Kansas Queries]
---
DO YOU HAVE
QUESTIONS, COMMENTS, CONTRIBUTIONS FOR US?
Bill and Diana Sowers
, Lincoln County Coordinators
Tracee Hamilton, Lincoln County Coordinator
---

Home Page for Kansas
Search all of Blue Skyways
---
Copyright 1997, 1998 by Bill and Diana Sowers