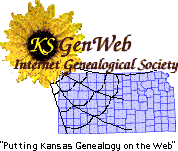 Murder of
John Lyden
in 1875
---
Lincoln County News, Aug. 28, 1941
The visit by a grand-niece of John Lyden to Kansas and her plans to have his remains exhumed from their burying place on a farm northeast of Ellsworth and moved to a cemetery, possibly at Lincoln, renews interest in one of the most cold-blooded murders ever committed in this part of the state.
At about the same time, the old file containing the complete record of the cororner's inquest into the murder was rediscovered in the office of the Lincoln county clerk and the nearly forgotten account given by witnesses at the inquest is again brought to light.
First County Superintendent
John Lyden, Irish by descent and a native of New York, came to Lincoln County about 1870. He is said by his relatives to have been a Union soldier and a veteran of the Battle of the Arickaree. For a few months in 1870 he served as the first county superintendent in Lincoln county then he bought 100 acres of railroad land from the Union Pacific in Section 24, Valley township, and began farming and raising cattle with a great deal of success.
By February 1875 he had nearly 200 head of cattle, 12 horses, a team of mules and a colt, besides other property beyond that commonly held by a Kansas pioneer. He was a bachelor and he lived in a semi-dugout on his farm. For about a year he had hired one Millard Eaton, whose parents lived eight miles north of Lincoln, to work for him for $16 a month, not bad wages for the time and particularly welcome during the hard times of 1874, the Grasshopper Year, and the following winter. Excepting for a couple of months during the winter, young Eaton had worked for Lyden since April 1874.
Eaton was Hired Man
In late January or early February 1875, according to the story that can be pieced together out of the testimony taken at the inquest, Lyden had sent for Millard to come back to work to cut 25 or possiibly 50 cords of wood to haul to Ellsworth for sale. He had gone to Lyden's place and had begun cutting cordwood on the Elkhorn.
On the night of Feb. 10, Millard had stopped at the Hurlock home and stayed till 8:00 and asked, "Have you the butter ready for the old bachelor?" meaning Lyden, according to the testimony of M.E. Hurlock at the inquest.
Murdered and Placed in Well
On or about that day Lyden was murdered, shot in the face just below the eye, and wounded apparently by a knife in the left side between the hip bone and ribs, the wound extending into the abdominal cavity according to the testimony of Dr. R.F. Bryant, coroner, and Dr. James D. Gilpin, another Lincoln physician, who performed the post morten together. Their testimony agreed that the wound in the face which ranged into the thorax, would have caused immediate death, while the other would not. There were minor wounds about the head made with a blunt intstrument. The doctors agreed that the wounds were inflicted while Lyden was lying down.
Lyden's body was removed to a well on a nearby farm which had been abandoned by a family named Seiber and concealed in the bottom under old boards, roofing and straw. The Seiber house burned sometime between Feb. 9 and 12, one night about 9 o'clock, according to the testimony of William Achterberg, who said he saw the light from the fire at his farm south of Lincoln.
Neighbors observed that Lyden was not around his place, but young Eaton told them that he had gone to Kansas City to see about selling some cattle and their suspicions were quieted for the time. He also said Lyden was arranging to pasture cattle near Kansas City.
Eaton continued to work around the Lyden place and on or about Feb. 14 he visited his parents on Battle Creek, taking them, according to their testimony, nearly two quarters of beef and 250 pounds of flour. He said he had come to get his sister's husband, Abel Sherman, to go back with him to help cut wood, but since one of the Sherman children had been sick, Sherman remained with his family at the Eaton place and William Eaton, the father, returned with Millard.
Eaton Ran the Place
Young Eaton continued to run the place as if he were acting for Lyden, and according to witnesses he had the keys to the house and granary, he hired others to haul wood to Ellsworth and he received the money paid for the wood, about $3.50 a load.
That went on for a week or 10 days, then with the neighbors still unsuspecting, Millard Eaton began to carry out the preconceived plan that was the motive for the murder.
Wired Self to Ship Cattle
Eaton went to Salina, and sent himself a telegram, signing Lyden's name to it. Then he went back to Ellsworth and received the telegram, instructing him to ship 39 cows and 69 steers to Kansas City. He hired two neighbors to help him drive them to Ellsworth, where Pat English appeared and claimed one cow as his own and two steers as Mrs. Haley's.
They loaded the rest of the cattle and the train pulled out for Kansas City, with Millard Eaton sitting on top of one of the cars. Eaton sold the cattle at Kansas City, according to circumstantial evidence, and returned to Salina about March 1 with a rather large amount of money which he displayed at random.
Arrested in Salina, Released
Marshal J.M. Coombs, marshal of Salina and also U.S. deptuy marshal, arrested Eaton there, he testified at the inquest, because of his "general appearance and shyness and the way he handled money." He said Eaton asked him to "name his price," and leave him alone, without searching him. Coombs, however, took him into custody and took him to the office of County Attorney Foster, where Foster questioned him, asking him among other things about an express box he had received at Salina with a declared value of $1,300. Eaton said that it continued only $250, which was to be deposited for Lyden. He claimed he had earned the money he was displaying as his own by working the coal mines in Kentucky.
During the questioning, one Marquis, or Mark Adams, appeared on the scene, vouched for Eaton as an honest and industrious lad and promised to take care of him and see that he got back to Ellsworth. A few minutes after Adams and Eaton left, Adams reappeared with the story that Eaton had eluded him and hadn't taken the train.
While in Saline, according to testimony, Eaton had bought two revolvers for $8 apiece and he had been seen in Adams' company. One witness, an ex-deputy marshal, said he had seen him give Adams $150 or $200 including one $100 bill.
Adams claimned he had returned all Eaton had given him in Salina excepting $11 to pay for the valuable express package and that he had had to put up 75 cents of his own money for that bill.
Paid Old Doctor Bill
While he was at Salina, Eaton appeared from the testimony to have paid one Dr. Crowley $133 for medical care for his sister while the Eaton family lived in Saline county and to have loaned the doctor $750 more with interest at the rate of $750 a month. Later he tried to get the $750 back but the doctor said at the inquest that he had heard by that time that Eaton was in trouble and wanted to leave town and intimated that he did not want to aid him to escape.
Eaton also gave Adams some papers, telling him they contained Crowley's note, according to Adams' testimony, and asked Adams to give Crowley the note and destroy the rest. Adams gave them all to Crowley and asked him to destroy them lest there might be something in them to "compromise us," Crowley quoted him.
Meanwhile, Sherman, Eaton's brother-in-law, claimed he had been to Salina, Solomon and Minneapolis looking for work. The elder Eaton remained at Lyden's.
Back to Lyden's Place
According to the elder Eaton, Millard returned to the Lyden place early in March with a story to the effect that Lyden had sold the cows to a Mr. Goodwin 35 miles east of Kansas City for 2 1/2 cents a pound and some of the steers for as much as $50 a head and had taken the rest of them to Goodwin's farm to pasture. This coincided with Millard's previous story that Lyden was east of Kansas City fixing fence for his cattle.
On his return from Kansas City Millard bought presents for his family, including clothing, cloth, shoes, boots, gloves, stockings and whiskey, and he distributed them on March 7 when he visited the Eaton home. For himself he had bought a new suit of clothes and an overcoat.
Father Suspicious
According to the testimony of the mother, her husband was suspicious about this sudden prosperity. The father testified that about that time Albert Achterberg mentioned to him the growing rumor that Lyden had met with foul play and he had approached Millard on the subject. Millard had denied all knowledge of such a thing. The elder Eaton told the coroner's jury that he thought it strange Lyden would trust Millard to ship cattle for him, an opinion voiced by others.
Adams took a trip up into Lincoln county during the first week of March. He had lived here a few months, coming here from Lawrence, then had been in Salina a short while. He visited the Eaton home and told Mrs. Eaton that some of Lyden's friends were blaming her son for Lyden's disappearance, although he thought the real criminals had paid Millard a sum of money to keep still.
Adams Tells of "Confession"
Adams was around Lincoln a while and he testified that on the night of March 7 he talked with Millard, who gave him $50 in advance for collecting the $750 from Dr. Crowley. Adams promptly hinted to George Green, deputy U.S. marshal at Lincoln, that a big "stealing scrap" would soon come out and that he supposed Eaton was in it and he thought he would be in position to collect some reward money.
Green testified that Millard told him the same night that he had received $300 as a gift from Lyden. F.M. Beatty testified that at about that time Millard had offered to pay him $15 as the court costs in a suit Lyden had lost in justice court, but that he had declined because an appeal was pending.
Disappeared after March 7
Millard Eaton apparently did not return to the Lyden place after the morning of Sunday, March 7, when he road off on one of Lyden's horses, going to the Eaton home and then back to Lincoln. Neighbors' suspicion was aroused and he knew it.
Frank A. Schermerhorn, rancher and country storekeeper, had started a private investigation in Lincoln county and in Salina, for Lyden had told him shortly before his disappearance that he didn't intend to ship any cattle before June, and besides, Lyden was not a man who trusted others to do business for him.
Body Found March 9
Schermerhorn, E.P. Grubb, Thomas Walls and W.H. Bishop were looking around the old Seiber place on March 9 when they saw blood stains around the curb of the well. Bishop volunteered to descend into the well and halfway down saw more blood on the wall. At the bottom, almost covered with old boards, roofing and straw, was a man's body.
They notified the coroner, the body was removed, and friends of Lyden identified it. The body was removed to Lincoln for the inquest.
More Evidence Found
That night John B. Walls and "Mother" Haley went to the Lyden place, expecting to find the body there and to offer their services in preparing the remains of their friend and neighbor for burial. The body was gone, but they found other things, a dagger that William Eaton called his pocket knife lying on a desk in the house, the bloodstained curb from the Seiber well in the cellar and a bloodstained feather bed in the house. Walls swore out a warrant for the Eatons.
The inquest started on March 10, with J.H. Barnum, Elias Evers, E.G. Tozier, L.D. Farnsworth, A.M. Sandusky and H. Clay Buzick as the jury. Besides witnesses mentioned above, Albert Achterberg and Thomas Askey, young neighbors, gave strong testimony.
Jury Indicts Two for Murder
The verdict of the coroner's jury was that on or about Feb. 10, 1875, Millard and Abel Sherman did "unlawfully, feloniously, deliberately, wilfully, premeditatedly and by and of their malice aforethought kill and murder" John Lyden and that William Eaton and Mark Adams had assisted young Eaton to escape arrest and punishment. The verdict was filed March 17 in the office of County Clerk W.C. Buzick by W.C. Springer, deputy.
Lyden was a member of the Grange and some of his fellow members claimed the body following the inquest and took it to a school house northeast of Ellsworth. It was buried in a small burial plot on what is now the McCoy farm about six miles northeast of Ellsworth. Two or three other graves were in the plot at the time, but it was discovered soon afterward that a question of land title prevented plans to establish a cemetery there. The grave of John Lyden, unmarked but easily distinguishable, is still on the McCoy farm.
Lyden's will, made in New York in 1864, left his proerty to his sister, Mary, who later received $1,000. His brothers Pat and Dan were administrators, with John Walls replacing Dan later. Before the administrators were appointed, Schermerhorn served as trustee.
Lyden had 73 head of cattle left and his personal property brought $1718.55 at auction. His 160 acres were appraised at $640.
Eaton May Have Been Murdered
One apparently well-founded story is that Millard Eaton left Lincoln County between March 7 and 9 and went to Saline county, where he got a job on a farm. A few days afterward a man on horseback came and talked to him in the field. A few days after that two men came in a buggy and he left with them, saying he would be back soon.
He didn't come back and it is supposed that he was lured away by his former accomplices and killed and his body more successfully concealed than that of Lyden.
It has never been doubted in Lincoln county that he had accomplices who were smarter and more prominent than he was. One story, now almost a legend, is that the suspected accomplices, one by one, were forced by public opinion to leave the country and that all eventually met violent deaths.
Eaton's Mental Makeup Queer
The mentality of Millard Eaton has always been a matter of speculation. The young fellow, according ot the testimony of his parents and of Adams, asked them to count money for him on several occasions. His behavior failed in many respects to indicate that he was of even average good sense, and his offers to pay debts to Dr. Crowley, to his mother, and even the supposed debt of his victim in the court make him a strange case.
On March 21, Schermerhorn filed a complaint charging that Adams received $50 from the proceeds of sale of cattle belonging to Lyden's estate.
Adams was convicted in justice court, appealed and the county attorney declined to prosecute for want of evidence and the court ordered a verdit of acquittal which the jury gave without leaving the jury box. No other case is on record in this county which shows any prosecution of any of the four men named by the coroner's jury.
In 1879 Adams was arrested on a charge of selling liquor without a license and was acquitted by a jury.
---
Return to:[Lincoln County Kansas Genealogy][Lincoln County Kansas Queries]
---
DO YOU HAVE
QUESTIONS, COMMENTS, CONTRIBUTIONS FOR US?
Bill and Diana Sowers
, Lincoln County Coordinators
Tracee Hamilton, Lincoln County Coordinator
---

Home Page for Kansas
Search all of Blue Skyways
---
Copyright 1997, 1998 by Bill and Diana Sowers