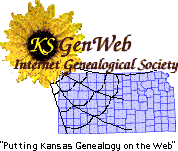 60th Anniversary of the
Death of Adventurer
Martin Johnson
---
Lincoln Sentinel-Republican, 23 January 1997

The Sentinel recently received a letter from Conrad G. Froehlich, director of the Martin and Osa Johnson Safari Musuem in Chanute. The letter explained that Johnson was a former Lincoln resident and a noted wildlife filmmaker and adventurer.
Froehlich wrote; "Monday, Jan. 13, was the 60th anniversary of the death of famed wildlife filmmaker, photographer, and author Martin Johnson. Born in 1884, Martin grew up in the Kansas communities of Lincoln and Independence. From 1917-1936, he traveled across Africa, Borneo, and the South Seas with his wife, Chanute native, Osa (Leighty) Johnson.
"The Johnsons' final trip to British North Borneo, form 1935-36, resulted in their firm "Jungle Depths of Borneo." In January 1937 Martin and Osa began a lecture tour featuring this film. They boarded a Boeing 247 Western Air Express flight from Salt Lake City to Burbank on Jan. 12. In bad weather, the plane strayed off course and crashed near Los Pinetos peak in California. Martin died the following day from injuries received in the accident and complications of his untreated diabetes.
"Osa Johnson recovered from her injuries and returned to Africa one final time in mid-1937. She went on to develop more lecture films and write several books including her best-selling 1940 autobiography, 'I Married Adventure.'"
Newsman Lowell Thomas wrote about Martin and Osa: "It was a rare team they made, this partnership between these two handsome young people from Kansas … They shared each other's thoughts, experiences, hardships, dangers. And I don't know of any couple that had so much and such continuous fun together."
Froehlich's letter stated the couple are buried together in Chanute's Elmwood Cemetery.
A biography about the couple entitled "They Married Adventure: The Wandering Lives of Martin and Osa Johnson" was written by Dr. Pascal James Imperato and his wife Eleanor M. It was published in 1992.
The Martin and Osa Johnson Safari Museum is located in the renovated Santa Fe train depot, Chanute. It is open Monday through Saturday from 10 a.m. to 5 p.m. and 1 to 5 Sundays.
---
Return to:[Lincoln County Kansas Genealogy][Lincoln County Kansas Queries]
---
DO YOU HAVE
QUESTIONS, COMMENTS, CONTRIBUTIONS FOR US?
Bill and Diana Sowers
, Lincoln County Coordinators
Tracee Hamilton, Lincoln County Coordinator
---

Home Page for Kansas
Search all of Blue Skyways
---
Copyright 1997, 1998 by Bill and Diana Sowers