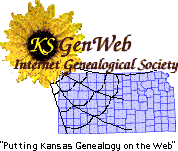 Martin Johnson
Takes
A Bride
---
Lincoln Republican, 8 September 1910

Martin Johnson, a former Lincoln [missing several words] notoriety by making the famous trip to the South Sea, on the "Snark" with Jack London, has described the spirit of "wonderlust" [sic; probably should be "wanderlust"] to a superlative degree.
A few weeks ago, he was married at his home in Independence. He and his bride started at once on a two year's honeymoon trip. They started with $10 in case. Mr. Johnson expects to give illustrated lectures of his trip with London, and Mrs. Johnson will sing between acts.
They are in Salina this week, where they are guests at the home of C.B. Jones.
---
Return to:[Lincoln County Kansas Genealogy][Lincoln County Kansas Queries]
---
DO YOU HAVE
QUESTIONS, COMMENTS, CONTRIBUTIONS FOR US?
Bill and Diana Sowers
, Lincoln County Coordinators
Tracee Hamilton, Lincoln County Coordinator
---

Home Page for Kansas
Search all of Blue Skyways
---
Copyright 1997, 1998 by Bill and Diana Sowers