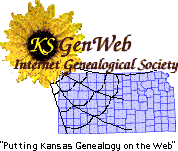 The
Montgomery Family
of
Lincoln County
Kansas
submitted by Gayle M. and Arlene Montgomery Garrett
---
My wife, Arlene Montgomery Garrett, has what I think is unique connections, in that she can trace all 4 sides of her family to Lincoln County, Kansas. There are as many as 2 - 3 generations buried in Lincoln County, on all 4 sides of her family. The family names are MONTGOMERY, MELLENKAMP, WEIDMAN, & LESSOR. Some descendants from all 4 families, later moved to Trego County, Kansas. There is still many cousins living in Lincoln County.
Robert MONTGOMERY and Eliza FLINT:
--- Robert (1) MONTGOMERY was born February 1826, and died March 13, 1879 in a Lincoln Co. prairie fire along with his son, Robert J. He married:
--- Eliza Ann FLINT 1850 in New Hampshire.
(Source: (1) FAMILY Bible., (2) William "Bud" Montgomery.)
Notes for Robert MONTGOMERY:

Robert, his wife Eliza, & their family moved to Iowa County, Iowa in 1854. They started overland for Kansas in 1873. Coming through Nebraska, one of the children was hurt compelling them to stay there for a year, coming to Kansas in 1874, & settling in the Prairie Grove area. Robert and his son, Robert Jr. were killed in a prairie fire in rural Lincoln County on 3-13-1879. Also killed was the first husband of Rachel, who later married Charles MONTGOMERY. Three were killed in that fire.
The MONTGOMERY family is buried inside a small fenced area in the Prairie Grove Cemetery. The small fence was put in to protect the early graves from livestock. The gate to the fence has the name "Montgomery" on it. This is in rural Lincoln County.
Notes for Eliza Ann FLINT:

Eliza was born in Massachusetts. Eliza's fathers family moved to New Hampshire when she was 12 years old. While in New Hampshire she married Robert MONTOGOMERY in 1850. In 1854 Robert, Eliza & their family moved to Iowa County, Iowa. In 1873 they started for Kansas, coming through Nebraska. While in Nebraska one of the children was hurt compelling them to stay in Nebraska for a year. They came to Kansas in 1874, & settled in the Prairie Grove area. On March 13th. 1879 her husband Robert, & son Robert Lost their lives while fighting a prairie fire. The same fire also destroyed their home. Later Eliza & her children rebuilt the home. A few years before she died she went to live with her son George. Of her 12 children 4 preceded her in death. Surviving her death were: Charles, Will, & George of Lincoln, Kansas, & Ed of Salina, Kansas. Mrs James D. FANCHER of Lincoln Ks, , Mrs. Mary POTTER, & Eliza KRUGG of Coffeyville, Kansas, & Mrs. Carrie HERMAN of Abilene.
Children of ROBERT MONTGOMERY and ELIZA FLINT:
i.--- ---?--- MONTGOMERY, m. James D. FANCHER.
ii.--- Carrie MONTGOMERY m. ---?--- HERMAN.
iii.--- Emma G. MONTGOMERY, m Jackson McKINNEY
iv.--- Mary MONTGOMERY, m. ---?--- POTTER.
v.--- Sarah MONTGOMERY, b. May 19, 1851; d. September 24, 1885.
vi.--- Charles MONTGOMERY, b. February 07, 1853; d. September 23, 1934.
vii.--- William Warren MONTGOMERY, b. June 19, 1857; d. January 29, 1933 m. Elsouave PRENTICE.
viii--- Robert (Robbie) J. MONTGOMERY, b. Abt. July 14, 1863; d. March 13, 1879, in Lincoln County prairie fire.
ix.--- Frankie MONTGOMERY, b. Abt. March 14, 1866; d. April 13, 1877.
x.--- George E. MONTGOMERY, b. February 02, 1869; d. March 29, 1947. (He was a Bachelor all his life.)
iii---EMMA G. MONTGOMERY AND ANDREW JACKSON McKINNEY:
Emma G. MONTGOMERY's husband, Andrew Jackson McKINNEY, was the son of Louis McKINNEY and Sarah KOONTZ. Andrew's family moved to Lincoln , Kansas, area when he was about 15 . The farm was located 6 miles north of Lincoln. Andrew's 1st. wife was Emma G. MONTGOMERY. Andrew's 2nd. wife was Eliza Jane COIL. Andrew's 3rd. wife was Mrs. Serna A. COUNTRYMAN. She survived him. Also her children by Andrew survived him. At Andrew's death the following brothers & sisters survived him: Mrs Charles (Rachel) MONTGOMERY of Lincoln, Kansas; Jasper McKINNEY of Jewell County, Kansas; William McKINNEY of Vesper, Kansas; Mrs. Della POUNDS of Vesper, Kansas; Alonzo McKINNEY of Lincoln, Kansas.
Children of Emma MONTGOMERY and Andrew MCKINNEY:
1--- Della MCKINNEY, m. ---?--- BAIRD.
2--- Edward MCKINNEY.
vi---CHARLES MONTGOMERY AND RACHEL MELVILLE MCKINNEY:
Charles MONTGOMERY was born February 07, 1853, in New Hampshire and died September 23, 1934. He married:
----- Rachel Melville MCKINNEY, born in Iowa, daughter of Louis MCKINNEY and Sarah KOONTZ. Rachel m. 1st to Isaac PAFF. (Note: I think parents of Rachel's first husband were: Elisabeth PFAFF, born 2-28-13; died 3-14-88, and M.G. PFAFF, born 4-20-1802; died 7-27-1892. They are buried near Rachel's first husband.
Children of Charles MONTGOMERY and Rachel McKINNEY:

1--- Louis Francis "Fran" MONTGOMERY, b. May 22, 1881, Lincoln County, Lincoln Kansas; d. October 09, 1964, Pittsburg, Kansas; m. (1) Anna Margret (Buried in Ransom Cemetery, Ness County, Ransom, Kansas); m. (2) Anna Lee. (Note: Fran MONTGOMERY raised a large number of sheep. He & his 2nd. wife, Anna Lee, are both buried in cemetery in Franklin Township, Warrensburg, Missouri. Fran always referred to Anna Lee as his cook , & cook only. Even his closest friends, & relatives "did not know they were married" until after finding marriage license after Frans death.)


2--- Robert J. MONTGOMERY, b. Abt. September 15, 1883; d. February 16, 1886. (Note: Robert died at the age of 2 years, 4 months, 28 days. Bud remembers that he died of diphtheria.)


3--- Andrew Elbert MONTGOMERY, b. November 25, 1885, Lincoln County, Kansas; d. October 28, 1961, WaKeeney Cemetery, WaKeeney, Kansas; m. Mattie Victoria LESSOR, March 23, 1910, Brides home in Lincoln, Kansas. (Note: Andy was a farmer all his life. He moved to Trego County after he married. They moved to the farm his brother, Fran, had homesteaded. He built a small house first, and later added on a wing and a second story. This house was attached to the "shack". This was Fran's original homestead house. Andy died of a stroke when Arlene was only 11 years old. Grandma Mattie wore her high school graduation as her wedding dress. She moved to Trego County in a covered wagon and lived to see men land on the moon.


4--- Atha Jane MONTGOMERY, b. October 03, 1887; d. June 01, 1941, Buried in Beulah Cemetery, Colby, Kansas; m. GLENN JONES.


5--- Clyde Ray MONTGOMERY, b. July 25, 1889; d. July 13, 1965; m. Victoria Catherine "Aunt Vic".


6--- Nellie Eva MONTGOMERY, b. June 22, 1891; d. February 09, 1913; m. Charles Henry LESSOR, April 29, 1908. (Notes: Nellie and Charles Henry LESSOR are buried in Prairie Grove Cemetery)


7--- Lora Ann MONTGOMERY, b. June 04, 1896; d. February 18, 1967. m. Nels Chris (N.C.) Arther NELSON. (Notes: Buried in Lincoln Cemetery, Lincoln, Kansas)
---
This information was submitted by:
Gayle M. and Arlene Montgomery Garrett
WaKeeney, KS
email: garr@ruraltel.net
---
Return to Lincoln County Kansas Genealogy main page.
---
DO YOU HAVE
QUESTIONS, COMMENTS, CONTRIBUTIONS FOR US?
Bill and Diana Sowers
, Lincoln County Coordinators
Tracee Hamilton, Lincoln County Coordinator
---

Home Page for Kansas
Search all of Blue Skyways
---
Copyright 1997, 1998 by Bill and Diana Sowers