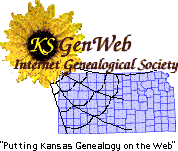 Lincoln County
Kansas
Obituaries
Surnames starting with

"E"
---
ECKHART --- William Geo. ECKHART
Lincoln Sentinel Thursday, July 15, 1886.
---Died... on Sunday, July 11, 1886, at the home of his parents in Valley Township, Lincoln County, Kansas, William Geo., son of Mr. and Mrs. Fred ECKHART, age 2 years, 6 months, and 9 days. For nineteen days he suffered from abscess on the shoulder. Pleasant Valley Cemetery was chosen as the place of burial.
submitted by Bill and Diana Sowers (Note... We are not related to this person. I found this death notice while looking through the paper.)
---
EDGETT --- Mamie EDGETT
Lincoln County Beacon, Sept. 24, 1885
---Mamie, daughter of O.B. and Antoinette S. Edgett, was born June 20, 1882, and died Sept. 18, 1885. Owing to an accident which happened two years ago, she has been a constant sufferer up to the time of her death [in Kansas City]. The remains were brought back to Lincoln, where they were interred on Saturday, after appropriate services at the church, conducted by Rev. W.D. Ward. Mamie is no longer a sufferer. While here she bore it all with a degree of patience which would seem remakrable even in an older person. Today she lives in a land whose inhabitants never say, I am sick. With her all is well; with the bereaved parents there is sadness of heart, and many friends offer their sympathy.
---
ERHARDT --- Augusta ERHARDT
The Lincoln Republican April 20, 1922 Volume 55: Number 1.
---Auguste ERHARDT the daughter of Michael and Johanna LUECK (LUCK), was born in Fuhlbeck, Germany, August 2, 1843. In the year 1868 she came to this country and lived in Junction city, Kansas. In 1870 she came to Lincoln and was united in marriage to Ernst ERHARDT. They were among the first settlers in this county. Mrs. ERHARDT after a full measure of life, both sad and joyful, reached the end of her pilgrimage, April 15, 1922. They were blessed with a family of 7 children, all of whom survive her except one son, who preceded her to the grave. Her dear husband passed away September 30, 1910. Mrs ERHARDT was a kind neighbor and a true friend. She fulfilled earnestly and conscientiously all her duties. Her labors were not in vain. She reaped even here a beautiful regard, for her children were very fond of her, and during her long illness nursed her with loyal and untiring love. From childhood she belonged to the Lutheran church and remained faithful. Her faith in the Savior made her strong to leave her burden. Without any fear she bravely faced death. She knew where she was going. It is certainly well with her and she is now happy in the sight of the Lamb of God. The funeral services were held at the house, on Monday at 2:30 p. m. and the remains were interred in the Lincoln Cemetery: thereupon services were continued at St. John's Lutheran church, Rev. H. KROENING officiating, assisted by a quartett and the choir, ably directed by Prof. P. L. GABBERT. May she rest in Peace.
Submitted by Clarence H. Suelter: suelter2@attbi.com
---
ERHARDT --- Ferdinand (Fred) ERHARDT
Lincoln Republican October 6, 1910, Volume 36, Number 22.
---Ferdinand ERHARDT was born near Ludwigsburg, Wurttemberg, Germany on October 19, 1829 and died on September 30, 1910, nearly 81 years of age. Mr. ERHARDT came to the United States in 1854 and was married to Catherine REINOEHL in Philadelphia, Pennsylvania on (July 26, 1857). To this union were born two girls, (Anna and Amelia), and one boy, (George).
He and his family emigrated to Kansas in 1858 and settled in St. George Pottawatomie county. In 1862, he enlisted in Senator PLUMB's Union regiment, the 11th Kansas, and took part in the battle of Westport, Prairie Grove, Cane Hill and the Price raid. While serving in the Army, his wife and two daughters died early Fall 1864. In 1865 Mr. ERHARDT and his regiment participated in the Indian campaigns in Wyoming and was involved in the battle of Platte Bridge on July 6, 1865. After the war he came to Lincoln County and in 1867 took a claim on Bullfoot creek and had a prominent part in the settlement and building of Lincoln County Kansas.


Mr. ERHARDT married Miss Augusta LÜCK on (March 20, 1870) and to this marriage were born two boys and four girls, their names are: Laura, wife of Frank AUFDEMBERGE; Chloe, wife of Henry AUFDEMBERGE; Emma, wife of Martin SUELTER; Katie, wife of W. H. WILLIAMS of Denver, Colorado and Frank ERHARDT of Witchita, Kansas. George ERHARDT, his son by his first marriage, now resides in Ellsworth, Kansas. A large concourse of his friends and neighbors gathered to pay their last respects to his memory and to assist in the impressive and solemn requiem services of the German Lutheran church, conducted by the Rev. HOYER.

Information supplied by Clarence Suelter: suelter2@attbi.com
Note..... Other material on Ferdinand Erhardt may be found in the October 13, 1910 issue of the Lincoln Republican and in Adolph Roenigk's "Pioneer History of Kansas", Chapter XVI, page 110. Copyright 1933 which was reprinted in 1973 by the Lincoln County Historical Society
---
ERICKSON --- Ingman M. ERICKSON
Lincoln County Beacon, April 29, 1886
---At his home three miles southwest of Lincoln, Lincoln county, April 25, 1886, of dropsy and heart disease, Ingman M. Erickson, in the 62nd year of his life. He was a native of Sweden and came to America over 30 years ago. He was one of the early settlers in Lincoln county, a kind neighbor, a good christian father, always very industrious. He leaves a wife and six children.
---
Back to Lincoln County Obituaries Main Page
---
Return to:[Lincoln County Kansas Genealogy][Lincoln County Kansas Queries]
---
DO YOU HAVE
QUESTIONS, COMMENTS, CONTRIBUTIONS FOR US?
Bill and Diana Sowers
, Lincoln County Coordinators
Tracee Hamilton, Lincoln County Coordinator
---

Home Page for Kansas
Search all of Blue Skyways
---
Copyright 1997, 1998 by Bill and Diana Sowers