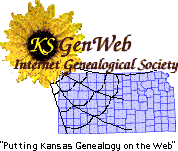 Lincoln County
Kansas
Obituaries
Surnames starting with

"I"
---
INGHAM --- George INGHAM
Lincoln Sentinel --- Aug 25, 1910
"AN OLD SETTLER DEAD"
---George INGHAM died at his home in Salina last Friday after a long illness. The body was taken to Beverly Saturday evening and the funeral was held on Sunday from the M.E. Church, conducted by Rev. J.H. KUHN, and the internment was in the Beverely cemetery. Mr. INGHAM was one of the first settlers of Lincoln County. He came here in the early days and settled on a homestead near Beverly. Later he moved to Beverly and was engaged in the hardware business. A few years ago he moved to Salina and made that place his home since. Mr. INGHAM will be greatly missed by the community.
Contributed by Bill and Diana Sowers. No relation to us.
---
INGHAM --- Margaret L. (POWELL) INGHAM
Beverly Tribune, March 23, 1911
Margaret L. POWELL was born in Franklin County, Indiana, July 16, 1857, where she lived until February 1877. She then came to Lincoln County, Kansas as has lived here since. She married Charles A. INGHAM, April 25, 1880. To this union was born five children, Arthur K., Mrs. Flora STREET, Mrs. Cora SCHROEDER, Lizzie and Fanny. Mrs. INGHAM had many friends; she was a home-loving woman and her first duty was always there. Her family was upper most in her thoughts and actions and wherever any of her children were her mind was there with a watchful and careful eye. She leaves a vacant chair that can never be filled. Funeral services were conducted by Rev. J.H. Kuhn at the M. E. Church, and her remains were laid to rest in the Beverly Cemetery. Cause of death was a complication of diseases in which measles predominated together with a weak heart. The relations have the sympathy of the entire community in their sad bereavement.
Submitted by: Richard Wiesner, rwiesner@sprintmail.com
---
Back to Lincoln County Obituaries Main Page
---
Return to:[Lincoln County Kansas Genealogy][Lincoln County Kansas Queries]
---
DO YOU HAVE
QUESTIONS, COMMENTS, CONTRIBUTIONS FOR US?
Bill and Diana Sowers
, Lincoln County Coordinators
Tracee Hamilton, Lincoln County Coordinator
---

Home Page for Kansas
Search all of Blue Skyways
---
Copyright 1997, 1998 by Bill and Diana Sowers