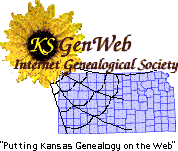 Lincoln County
Kansas
Obituaries
Surnames starting with

"Q"
---
QUILLIN -- John H. QULLIN
Lincoln Sentinel-Republican, Thursday, April 1, 1943
---John Hamilton QUILLIN, son of Mr. and Mrs. Alexander QUILLIN was born in Guernsey county, Ohio, January 2, 1856, and passed away March 23, 1943, at the home of his daughter, Mrs. Linda LOY at the age of 87 years, two months and 21 days. His parents died when he was but a boy. In 1873 he came to Kansas and located on Spring Creek. He was united in marriage to Mrs. Sarah JOHNSON in September 1882. To this union four children were born. In early manhood, Mr. QUILLIN united with the Methodist church at Ada, Kansas, later transferring his membership to the Methodist church in Barnard. In 1901 he moved to a farm in Logan township, living there until shortly before his death when he went to make his home with his daughter, east of Lincoln. He is preceded in death by his wife, who passed away March 14, 1934; one daughter, Netta, his father, mother and three brothers. He survived by his children, Lorenzo QUILLIN of Denver, Colo.; Mary WALTERS and Linda LOY of Lincoln, Kansas; his step daughter, Mrs. Olla WEST of Lincoln, Kansas; 10 grandchildren, a host of other relatives and friends. Funeral services were held Thursday afternoon from the home in Lincoln, conducted by the Rev. C. E. SPALDING, pastor of the Methodist church. Following the service here, the body was taken to Barnard where services were held in the Methodist church, conducted by the Rev. Fred BLANDING, of Minneapolis, for many years a personal friend of the family and the QUILLIN minister at their Barnard Church home. Burial was made in the Milo Cemetery.
Submitted by Scott Holl, great-grandson (scottholl@earthlink.net)
---
QUILLIN --- Nettie QUILLIN
The Beacon of Lincoln County Thursday, August 16, 1883.
---Died Tuesday, August 14, in Logan Township, Nettie, the daughter of John and Sarah QUILLEN [sic], aged 1 year.
submitted by Bill Sowers (Note... We are not related to this person. We found this obit while looking through the paper.)
---
QUILLIN --- Sarah QUILLIN
Lincoln Sentinel-Republican, March 22, 1934
---Mrs. John QUILLIN passed away at the family home in the Logan neighborhood southeast of Barnard, last Wednesday night about midnight after a lingering illness. Burial was made in the Spring Creek cemetery. Sarah L. HARSHBARGER, daughter of Mr. and Ms. John [Melinda Kessler] HARSHBARGER, was born September 26, 1855 and passed away from this life March 14. In 1870 she came with her parents from Harrison county, Iowa to Lincoln county where she has since resided. She was married to David B. JOHNSON, April 23, 1876. He died June 4, 1877, leaving his wife and one daughter, Olla. On October 11, 1881 she was married to John H. QUILLIN. She is survived by her husband and four children. One daughter, Nettie, died at the age of 18 months. The surviving children are: Lorenzo W. QUILLIN, Mary WALTERS, Linda LOY, Olla WEST. She is also survived by 7 grandchildren and 3 great-grandchildren and one sister, Hope E. HARRIS of Woodbine, Iowa. Mrs. QUILLIN united with the Baptist church at Ada when a young woman and later transferred her membership to the Methodist church in order to be with her husband in church activities. At the time of her death her membership was in the Methodist church in Barnard.
Submitted by Scott Holl, great-grandson (scottholl@earthlink.net)
---
---
DO YOU HAVE
QUESTIONS, COMMENTS, CONTRIBUTIONS FOR US?
Bill and Diana Sowers
, Lincoln County Coordinators
Tracee Hamilton, Lincoln County Coordinator
---

Home Page for Kansas
Search all of Blue Skyways
---
Copyright 1997, 1998 by Bill and Diana Sowers