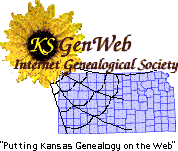 Pennsylvania
Settlers
Reunion
---
Lincoln Republican, July 11, 1895

While making the run from here to Salina on the morning of the Fourth an ex-Pennsylvanian took a hurried invoice of the natives of the Keystone state on the train, and the county from which they came. Some were, no doubt, omitted, but the following is Lincoln County's contribution to the great reunion of Pennsylvanians as he got it: E.A. McFarland, Alice M. Logan, Thomas and Charles Wakefield from Indiana County; Rev. R. Arthur, Greer and Will Arthur, Lancaster County; Allen and Ells Mersinger, A.L. Miller, E.C. and Belle Stover, Center County; Mrs. G.K. Smith, Theodore and Dolph Strawn, C. Adamson, Green County; J.R. Logan and Mrs. M.A. McFarland, Westmoreland County; R.F., E.C., William and R. Applebaugh, and Mrs. R.L. Applebaugh, R. Wakefield, W.J. Talbot, T.T. and Pat Caldwell, S.M. Jennings, Frank and Taylor Oliver, Mr. and Mrs. S.W. Caldwell, Mrs. Henry Kerr, F.L. Kyle and G.A. Wolfkill [Wolfkiel], Mifflin County; N.B., E. Vivian and Phora Rees, Lycoming County; Bert and Al Reed, Huntington County; Mr. and Mrs. William Robinson and two daughters, Blair County; Mr. and Mrs. S.H. Hoover, Clarion County; A., H. and Charles Hundertmark, Armstrong County; Thomas Kilcoyne, Beaver County; S.M. Lewis, Bruce and John Brumbaugh, Franklin County; P.J., A.E. and E.A. Heller, Northhampton County; Mrs. R.A. Arthur, York County; E.C. Hughes, Columbia County; A.E. McMichael, Crawford County; M. Shire, Philadelphia; Samuel Berry, Juniata County; A.N. and J.A. Cassell, Butler County; and Henry Kerr, Chester County. In view of the fact that no effort was made to get up a crowd of ex-Pennsylvanians in this county the showing is most remarkable.
---
Return to:[Lincoln County Kansas Genealogy][Lincoln County Kansas Queries]
---
DO YOU HAVE
QUESTIONS, COMMENTS, CONTRIBUTIONS FOR US?
Bill and Diana Sowers
, Lincoln County Coordinators
Tracee Hamilton, Lincoln County Coordinator
---

Home Page for Kansas
Search all of Blue Skyways
---
Copyright 1997, 1998 by Bill and Diana Sowers