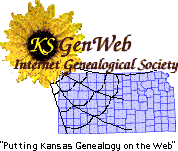 Tombstone Photos
From Lincoln and Ellsworth County
Cemeteries
---
June Henderson has photos of selected headstones from the Lincoln and Ellsworth County cemeteries listed below. The photos were taken by June in September 2003. Please note, June does not have photos of ALL HEADSTONES; just the ones listed via the links below.
June will send scans of the photos, at no charge, upon request. To email June, click here. Please include the name of the cemetery and the stone or stones you are interested in.
Please note: June does not live in Lincoln County and cannot shoot tombstones upon request.
Ellsworth County
Ellsworth "Old Cemetery"
St. Paul Lutheran Church Cemetery

Lincoln County
Bethlehem Lutheran Cemetery
Hammer Cemetery
Heiser Cemetery
Immanuel Evangelical & Reformed Church Cemetery
Lincoln Cemetery
St. John Lutheran Church Cemetery
St. Patrick Church Cemetery

---
Return to:[Lincoln County Kansas Genealogy][Lincoln County Kansas Queries]
---
DO YOU HAVE
QUESTIONS, COMMENTS, CONTRIBUTIONS FOR US?
Bill and Diana Sowers
, Lincoln County Coordinators
Tracee Hamilton, Lincoln County Coordinator
---

Home Page for Kansas
Search all of Blue Skyways
---
Copyright 1997, 1998 by Bill and Diana Sowers