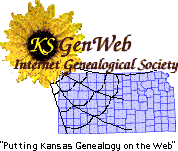 History of
Stone Pitcher
Remains a Mystery
---
Lincoln Sentinel-Republican, 6 July 1995

There's a large cement replica of a water pitcher standing in the yard of 609 N. Fourth St. in Lincoln. Not many people know about it and few know any facts about the statue except that it's been there a long time.
Leona Fink, who has lived at that address since 1973, admits she knows very little about the pitcher. She has painted the statue to keep it looking good and filled in the center so children can't fall into it. She commented that a person from Bennington approached her and offered to buy the pitcher, but, she stated, " … it's the only thing I have that no one else does!"
In searching for more information on the unusual lawn decoration, Ruth Rhudy was approached and questioned on the subject. Rhudy was born on Nov. 1, 1900, in Cedron Township near Hunter and moved to Lincoln with her family when she nine months old. She is a lifetime resident of Lincoln and currently resides at Mid-America Nursing Center. She remembers many details of the early 1900s in Linocln County and her memories include the cement pitcher.
When broached on the subject, Rhudy indicated the pitcher was built by a man named Sim Hoover (" … a big, gentle man …") who was the town marshal in Lincoln. She does not know the reason for his making the pitcher but believes it was simply to have a lawn decoration.
The pitcher is approximately three and one-half to four feet in height and is appropriately proportioned. The top rim is scalloped and according to Rhudy, may have held a water fountain at one time. "I see to remember a water fountain in it, but I can't remember exactly," she commented.
Rhudy remembers walking past the Hoover resident on her way to the "north school" and always looking at the pitcher. "It almost looked like you could pick it up and pour something out of it – it was that well proportioned," she explained.
She stated that Hoover lived at the residence in the early 1900s and said the pitcher had been there for as long as she remembered.
If anyone has any other details on the cement pitcher, the Sentinel would be interested in hearing them.
---
Return to:[Lincoln County Kansas Genealogy][Lincoln County Kansas Queries]
---
DO YOU HAVE
QUESTIONS, COMMENTS, CONTRIBUTIONS FOR US?
Bill and Diana Sowers
, Lincoln County Coordinators
Tracee Hamilton, Lincoln County Coordinator
---

Home Page for Kansas
Search all of Blue Skyways
---
Copyright 1997, 1998 by Bill and Diana Sowers