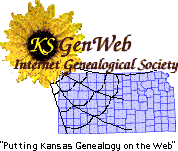 Lincoln County Kansas Queries
1999-2000
Return to Query Directory Page
---
SUBMITTING QUERIES
If you have a query you'd like to submit to the Lincoln County Kansas GenWeb page email it to us. Please put LINCOLN CO QUERY in your subject line when you send a new query to us. To enter a new query,

click HERE. (email: sixsunflowers@yahoo.com).

Queries for this page will be accepted only if they contain Lincoln County connections. So please include Lincoln County or a place within Lincoln County in your query

Lincoln County Photo Album

The Lincoln County Online Photo Album is used in part as a visual query site. You can view old photos to see if you can identify former residents or submit your own photos with the question, "Who am I?" The Photo Album is located online at: http://www.geocities.com/rlsteven_2000

Other places on the Internet to post Lincoln County queries

Lincoln County GenConnect Query Board
rootsweb.com page. Lincoln County GenConnect volunteer is Muriel
US GenExchange.
No volunteer coordinator at the present time.... if you'd like to volunteer, contact them!
KSGenWeb Query boards.
There is a Lincoln County query board here.
---
LINCOLN COUNTY KANSAS KSGenWeb QUERIES, 1999-2000
Here is a listing of queries on Lincoln County sent in 1999-2000. This query list is in chronological order. Click here to go to an alphabetical linked index to this query page. 2001 queries can be accessed by clicking here If you submit a query on a Lincoln County family in the past and it doesn't show up after a week on this page please email us again and give us a "subtle" reminder and we'll make sure it gets on.
---
Mitch Crumpton (email: not working) - 09 Jan 1999
I am searching for info on the HUNTER family, especially any info pertaining to John Robert HUNTER or William R. HUNTER of Lincoln, Ks. from the late 1800's to early 1900's, any information would be greatly appreciated - thanks, Mitch Crumpton
Emails to Mitch Crumpton are bouncing. If you know this person please have him contact us with a new email address.

Thomas Wetmore (email: wetmore@mail.ptd.net) - 11 Jan 1999
I am interested in any and all information available on Lyman WETMORE, his wife Maria BOYDEN ROOT WETMORE, her daughter Harriet Root CULVER and Elon CULVER, Harriet' husband. These four people are all buried in the Lincoln City Cemetery. They came to Lincoln Co. sometime after 1869 along with several other families including CULVERs , HOLCOMBs and Peter SHUMWAY. Lyman's father Andrew came with them but later went somewhere else with another daughter. Lyman WETMORE b.7/10/1796 d. 11/8/1883 was my great grandfather and I am trying to locate any and all other members of the family that came from CT>VT>PA>NE>KS. Thank you Thomas Wetmore (North central PA)

rizerk (email: rizerk@erinet.com) - 20 Jan 1999
Have tracked this family from Indiana to Calif. to Kansas. Looking for David MALONE b. abt 1841 and his wife Missouri E. SPRINGER b. 1842 in Indiana. Their first two children were born there - Joanna MALONE in 1867 and Franklin L. MALONE in 1868. Their third child, Georgian Helena MALONE was born 20 April 1875 in Lincoln Co. Kansas. (Later the family would move to Washington state.) Missouri SPRINGER was the dau. of John Small SPRINGER and Hannah BURT of Lincoln Co. Looking for death dates, and marriages of the children for a family book.

bears (email: bears@uswest.net) - 30 Jan 1999
Looking for any information on my grandfather, Ralph Edward PIERCE. All I know is that he may be from Lincoln County. I have a few other names that might be connected, they are; Wallace E. and Georgie Ann PIERCE, Sarah J. and Anson E. PIERCE. This is all I know. Please email me at bears@uswest.net, if anyone has info on these people.

Penny Ross Hoffman (email: pennyplay2@msn.com) - 2 Feb 1999
Desire information regarding the BURDICK family of Beverly, Kansas. My great -grandfather Edward C. BURDICK was struck by lightening in bed in June of 1901. He died as a result . His will was found by me at the Lincoln County Courthouse. My great grandmother Catherine E. BURDICK continued to live on the farm and in the townhouse located on lots 11 and 12 in block 19 of Beverly, KS untill the time of her death August 15,1029 at 72 years of age. Kate, as Grandmother was called, had 2 girls and one boy. Florence married and became a Glascow,she is buried at Beverly Cemetary along iwth her mother and father. Dennis E, Burdick, my grandfather lived with his mother and sisters in Beverly, KS. He married Elizabth KIRBY and had two children: Donald Kirby BURDICK born in Beverly Dec 8,1909 and Margorie BURDICK age unknown. My fater, Donald BURDICK lived in Beverly with his parents untill their divorce. His father ran the livery stable in town until he had some accident. Donald took the name of his step-fater Leo ROSS. Donald recieved the Congressional Medal of Honor for heroric action at Pearl Harbor , Dec. 7, 1941. If anyone has information about my relatives, please write me.
An update to the query above - April 27, 2002
In January and February I made great strides in locating relatives of Edwin Clark BURDICK and Catherine Elizabeth HOGG. Her father was William HOGG who was born in Virginia in 1825. Catherine had 11 siblings. Edwin's father was Joseph Nathan BURDICK born in 1809 in Connecticut. He was the youngest of nine children. His parents were married in Illinois where their first four children were born. Then two were born in Tennessee and the remaining three were born in Iowa. Both families are listed on Ancestry.com.
- Penny Ross Hoffman @ pennyplay2@msn.com Thank you

Lori Graff (email: rastus@pld.com) - 13 Feb 1999
My G-G Grandfather, Thomas BOYLE (b. 27 May 1827, PA) was an early settler in Lincoln Co., KS. The 1880 Lincoln Co. Census shows the following children for Thomas: James H. BOYLE (b. Abt. 1856), George W. BOYLE (b. Abt. 1858), Nancy "Ellen" BOYLE (b. 26 Nov. 1859), Elizabeth Ann BOYLE (b. 18 April 1866), Minnie Edith BOYLE (b. 19 Sept. 1872), and Thomas BOYLE (b. Abt. 1878). By the 1900 Lincoln County census, James and Thomas are gone. I am assuming that they died. I am looking for any information that might explain when, where and how they died.

Debbie Dillard (email: dudillard@earthlink.net) - 14 Feb 1999
I am looking for information on David P. SMITH b. 1870 possibly in Lincoln Center, KS, d. 1942 in Hidalgo Co. TX. Married Sarah Augusta "Gussie" LEARCH (or LERCH) b. 1871, d. 1962 Hidalgo Co., TX. Their children were: Lee, Charles Y., Alan (?) M., and Hazel Blanche b. 6/9/1895 in Lincoln Co., KS. The family eventually wound up near Mission, Hidalgo Co., TX. Thank you for any help.
Debbie Dillard
Arcadia, CA
dudillard@aol.com or
dudillard@earthlink.net

Stacey R. Benson (email: Sbenson625@aol.com) - 6 Mar 1999
Sharon Kay PORTER b. 13 Feb 1942 in Barnard, Lincoln, Kansas. Married Gary Dean JENNINGS b. 12 May 1942 place unknown. They had two children that I know of: 1) Mark Dean JENNINGS b. 6 Aug 1959 place unknown and 2) Michael JENNINGS b. unknown. I would appreciate any information on this family especially the unknowns and the date Sharon and Gary were married. Also if their children were married and had children. Please e-mail me at sbenson625@aol.com Thanks so much, Stacey R. Benson

Glenda Schrader (email: glendas@harborside.com) - 19 Mar 1999
Robert McCALL 1835-1911 wife Elizabeth (Lizzie TAYLOR) 1837-1917 from Clarion,Penn. to Manhattan,Kansas.
Sister Jane married William STEWART. Brothers John McCALL had several boys and lived in Okla. Alfred McCALL lived in Kansas. Horace McCALL was a doctor in Kansas City where he owned a hospital. Meade-Gilda-Roy-Miran -they all lived in Okla.for awhile and then moved to Canada.
Robert McCALL was in the Okla.land rush 1889 and settled in Payne Co.not far fron Coyle.
Children Samuel McCALL born Clarion,Penn. 1863 to Kansas 1890 and married Anna Eliza HIGH born Bucks Co. Penn.1868-1961 moved to Wakita, Okla.to Plainview,Texas to Colorado to Eugene,Oregon died1932 children Ralph HIGH McCALL born Wilson,Ks.1892 from Tx.to Myrtle Point,Oregon died 1976.Edith CARVALY born 1897 Wakita,Okla.died Tucson,Ariz
Sarah Jennie married John McMAHAN living in Tx.1932 Willis Peter-Okla Harriet Amerta married Henry BRABHAM-lived in Eugene,Oregon Laura Ellen married Aberham John BERSTEIN-Guthrie,Tx. Lavina Della married BURROUGHS-PULLMAN-Tx. Robert Stewart-bachelor West coast sailor Wash. Maggie E.1877-1893 William Ezra 1883-1947 Okla.married Effie Clyda BOWEN Cleveland married Maude lived in S.F.Calif.1932 Ida U. married HAZEN-Okla. HIGH--ARMBRUST--WEINHOLD--CRUGER
Would like inf.on them.
Thank You Glenda
---
rrratch@msn.com Robert Ray Ratch (Ratzsch) (email: rrratch@msn.com) - 23 April 1999

The purpose of this inquiry is to try and find information about my grandfather, Carl RATZSCH, (although I am unsure of his first name because I have seen various references to him as Karl, Carl and Charles) who came to the United States on October 8, 1880 and settled in Franklin Township, Lincoln County on March 3, 1881. He and his wife, the former Margaret KOHLER, reared eight children. They settled south of Lincoln on 160 acres and lived there until March 20, 1910, when they moved into the town of Lincoln. My grandmother, Margaret, died on April 26, 1929 and grandfather died on November 17, 1937. They are buried in the Lincoln Cemetery, Block 4, Lot 10.


It is my understanding that my grandfather became a rather substantial citizen of Lincoln and built many of the business buildings in Lincoln. However, when I visited there during the fall of 1997, I could not find anyone who could tell me where the RATZSCH family lived in Lincoln, what buildings he had built and why it was that he came upon hard times that caused him to be living on the "poor farm" when he died.


I do know that after homesteading in Lincoln County, he acquired hundreds of acres of farm land in and around Lincoln and in fact I trekked some of the acreage where he homesteaded. I was thrilled to learn of this website, but was shocked to learn that there was absolutely no information to be gleaned about my family. Besides my grandfather and grandmother, the family members included, my great grandmother, Sophia KOHLER, my uncles Hans F., Charles O., Willie Raenhart, Walter J., Henry Edward and my father, Ray Emerson and my aunts Lena M. (married Charles SPARKS who became town Marshall in Ellsworth) May Pearl (married Earl Dodge and they farmed in Lincoln County until the 1950s). Although I am rather biased, I don't think any history of Lincoln could be complete without some reference to my family.


Be that as it may, I am deeply interested in learning anything I can about my family and would be forever greatful to anyone who could help me.

Sincerely,
Robert Ray Ratch (Ratzsch), 2430 SW Queens Way, Topeka, KS 66614 - E-Mail: rrratch@msn.com
---
jyl privia (email: dealers@one.net) - 5 May 1999
I am looking for any info on Clayton Lee SHAFER born Sept 4th 1933 to Margaret Elizabeth ADAMS SHAFER and Cletus Arl SHAFER They lived at Sylvan Grove and in the Lincoln County area. Cletus worked at a milk testing plant. The other children were Glada Elizabeth , Doris May, Franklin or Frankie. The children were separated and placed into foster care during the depression. Eventually they were all reunited but Clayton.... He would have been 5 or 6 at the time, and may have a name change I do believe he was in WW2 . Please if anyone has any info. email.... I have been looking for him for 16 years and his sister Glada is his only living sibling left she is 76.........
---
Don and Phyllis Blythe (email: dophbly@ckan.com) - 3 May 1999
I have roots in Lincoln County:
BLYTHE, LYSTER, and McCANLES... and seek some information relating to their genealogy. My greatgreatgrandfather William Monroe McCANLES was a resident and merchant in Lincoln during the late eighteen hundreds and at one time was elected County Treasurer. I would like to find out when and how long he served. I have not sought information at the county court house. I was born and lived in Lincoln from l926 to 1948. Would appreciate any info.
Don Blythe 1801 Tyler Great Bend, KS 67530 --- E-Mail: dophbly@ckan.com

---
Alice Allen (email: dcaallen@pacifier.com) - 31 May 1999
Researching RATHBUN & WATSON families of Lincoln Co. KS.
William Henry Harrison RATHBUN & Sarah Isabell Helena HOBBS were both born in MO, married in KS (possibly Lincoln Co., but more likely Cheyenne Co as that is where most of their children were born), and died in Lincoln Co. (23 July 1948 for William, 18 Dec. 1953 for Sarah).
Their son James Leonard married Edit Bell WATSON in Lincoln Co. on 23 Dec 1908. Edith was the daughter of Henry WATSON & Elizabeth MATCHETTE. Edith's mother died before 1900, Henry raised Edith & her older brother Chester alone, as far as I know.
Alice Allen - dcaallen@pacifier.com
---
Don Gourley (email: DGour123@aol.com) - 22 June 1999
My great-grandfather, Jess GOURLEY was born in Lincoln Co. in 1871. He and his brothers Philander and Jerome participated in the land lottery of 1901 that opened the Kiowa/ Comanche lands in SW Okla. Can anyone direct me to a further source of information on Jess Gourley?
Don Gourley
DGOUR123@AOL.com
---
EThorpejr@aol.com - 23 June 1999
Seeking information on any THORPEs in Lincoln Co, KS, during the latter 1800s to early 1900s. Specifically Everett THORPE (Sr), possibly born aroound 1887, and eventually migrating to New York. Any data verifying parents, dates of birth, death, etc., would help. Thank you.
EThorpeJr@aol.com.
---
Miki Hoffman (email: irishgem@execpc.com) - 11 July 1999
Hello, Looking for the STRANGE family. Ancestors or descendants of William STRANGE (1912-1992) son of Joseph STRANGE of Lincoln, Kansas. Any information would be greatly appreaciated.
Sincerely, Miki Hoffman - irishgem@execpc.com
---
Frank D. Myers (email: fmyers@netconx.net) - 16 July 1999
Surnames: HICKLE -- MYERS
Looking for any trace of John and Susan (MYERS) HICKLE, who left Lucas County, Iowa, fall 1884 and were residents of Grant Township, Lincoln County, Kansas, when the 1885 state census was taken. (Note: Online transcription of census gives name as HINKLE). John supposedly died prior to 1900 in Lincoln County and Susan, about 1901, also in Lincoln County. They had these children: Mary A., Jesse/y R., Harriet, Jacob, James, Dora, Rosa May and at least two others. Susan was a daughter of Jacob and Harriet (Dick) MYERS, a sister of my great-grandfather, Daniel MYERS.
From: Frank D. Myers, fmyers@netconx.net
---
Tom George (email: georget@se.mediaone.net) - 2 August 1999
Looking for information on Hiram S. GEORGE, b. Apr 1854 in Jay, NY d. ? lived in Lincoln County, Pleasant Township, Silvan Grove around the turn of the century. His wife's name was Matilda (no other information known). Children Ethal B. GEORGE, b. 24 Jun 1884 d. Jan 1965; Clarance P. GEORGE, b. Jun 1886 d. ?; Ella M. GEORGE, b. 14 Apr1888 d. Jul 1974 in Shamrock , Wheeler, TX; Ray S. GEORGE, b. Aug 1891 d. ?; Mildred E. GEORGE, b. Jan 1899 d. ? -- Any information on these and related people would be greatly appreciated.
Tom George - Green Cove Springs, FL
---
Tom Cook (email: Glapn@aol.com) - 3 August 1999
Searching for the family of William Hamilton BISHOP (b. Clarno, WI in November 1848) came to Indiana Township, Lincoln Co. in early 1880's to farm. Had children: Clara (BARNHARDT) and Claude (twins), David, Harry and Jennie (HAYMAN). Claude moved to Oregon in early 1930's.
William H. BISHOP's wife was Clara C. BROWN also from Clarno, WI. Her parents, William Henry BROWN and Mary Ellen WALLACE moved to Elkhorn Twp. in early 1880s.
--Tom Cook -- Portland, OR
---
Vern Paul (email: vernpaul@earthlink.net) - 22 August 1999
I would like information on, and contact relatives of, Robert "Henry" KISSICK (b. 21 Nov. 1832, Fleming Co., KY) and Sarah C. LAWSON (b. June 1851, Morgan Co., KY) who settled in Colorado Twp., Lincoln Co., KS, about 1878/79. They had nine children: Robert, Lara J., May E., Lula A., Joseph, Edward, William T. (d. young), Bid, and Rosie.
Vern Paul -- vernpaul@earthlink.net -- Los Angeles, California
---
David Brown (email: dbrown@wavegate.com) - 23 August 1999
My great-great grandfather shows as Henry BROWN on the 1885 Census. He and his wife Sarah homesteaded starting about 1878. Lived with their spinster daughter Sarah Elizabeth. Sons also in the area included Francis Marion BROWN, Anderson BROWN. Later, my great-grandfather Fabius Lafayette BROWN was involved in county politics to some degree. I'm looking for anything that might indicate history of Henry and Sarah. They were from Ohio originally. Emigrated to Kansas from Warsaw, Indiana. Thanks,
David Acton Brown - email: dbrown@wavegate.com or features@daily-tribune.com
---
Wilda W. Morris (email: wem@ameritech.net) - 28 August 1999
Two queries in one:
1)--- I am working on a biography of John Sylvester STRANGE (1831-1915) for publication in a family newsletter, The STRANGE-WEBBER Connection. I would like to here from anyone with information about him or his family, pictures, etc. Thanks.
2)--- I am looking for information on early settlers of Lincoln County with family connections to the STRANGE family, including the family of Orange SHERMAN, and the MALONE family (spouse and family of Frankie (Francis or Frances) Strange MALONE. Thanks. Wilda W. Morris
---
David Veh (email: d.veh@worldnet.att.net) - 12 September 1999
Two queries in one:
1)--- HOBB(S) in Lincoln, Co, KS
I am researching the HOBB(S) family in Lincoln Co, KS. Myrtle Lillian BIRD married James Luman HOBB in 1909 in Lincoln, KS. The BIRD family came from Daviess Co, IN in the 1870's, and the HOBB(S) family came from Clark Co, MO, in the 1880's. Any information on the HOBB(S) family in Lincoln Co, KS or Clark Co, MO would be appreciated. Thanks in advance.
2)--- I am researching the COUSE, BIRD, and HOBB(S) name of my family. It seems that the COUSE family left Broome Co, NY and ended up in Lincoln, KS where two sisters, Alice E. and Lucy Jane, married brothers of the BIRD family James A. and Riley S., family in the late 1880's and another sister, Hattie Bell, married a Oliver Aaron STRANGE in the early 1880's. I also have reference to a Calvin COUSE in the Lincoln area; and these three sisters had a brother named Calvin. If anyone has information on the COUSE family in Lincoln, Co, I would be interested in hearing from you. Thanks in advance.
David Veh -- d.veh@worldnet.att.net in Overland Park, KS
---
Bill Lantz (email: blantz@SamLink.com) - 06 November 1999
Looking for information on George Obadiah Swan LANTZ who settled in the Lincoln Co. area around 1880. He came to Kansas from Pennsylvania. He was married and had one child at the time, John McKelvey LANTZ b. 15 Aug.1878. His wife's name was Harriet CRAWFORD LANTZ. Their first child born in Kansas was Delphia Mae b.15 Dec.1881 and married Milford VONADA 19 Dec.1900. Other children born between 1883 and 1896 were-- Lester, Miles H., Clara O., Albert J., Harry A. Two others did not survive childhood. Other family names associated with his children are--- Anna THOMPSON, Mabel MARKELL, Albina VOLOK, Roy MILLER, Amy Pauline SEIMER, and Anna SEIMER. Any help greatly appreciated. I am from the Pa. connection. blantz@SamLink.com
---
MtRver@aol.com 30 December 1999
I am looking for any information on the CHARD familles in Lincoln County, KS in the 1800s and into the 1900s. Any information would be appreciated. I am also looking for more information on a Frank HOLMAN who lived with William E. & Phoebe A. DUNCAN in Lincoln County, KS in the late 1800s and early 1900s. Possibly adopted.
---
Scott Brockelman (email: scottbrockelman@msn.com) - 30 December 1999
I am seeking any information on two families that came to Lincoln County after the Civil War. Both families appear in the 1885 census: the family of Fredrick BROCKELMAN & Jacob SHAFER. Two of their children married: Frank BROCKELMAN & Ruth SHAFER. Any and all information will be appreciated. I also have information to share. thanks scott brockelman (email: scottbrockelman@msn.com). Most of the Brockelmans moved to Council Grove, Kansas, around 1903.
---
Harmon Orsborn (email: kolh@hotmail.com) - 11 January 2000
I'm looking for descendants of Asa & Rachel ORSBORN (OSBORN) MYERS who migrated to Kansas from Jefferson County, Iowa. They are listed in the 1880 Lincoln Co. census as Asa, Rachel, & daughter Sophrona. They were married in Jefferson County, Iowa, on 14 June 1846. Other children were Geo. RICE (1st marriage), Martha, Nancy, Albert, Barbara, & Irwin MYERS. It is not known how many of the children migrated with them. My info lists Asa as a farmer & teacher. Rachel was my gt grandfather's sister. Thank you.
Enuf for now-bye, Harmon -- kolh@hotmail.com
---
Raymond Zerfas (email: mylady@ruraltel.net) - 08 February 2000
I am searching for information on Andrew Caruthers BOWEN, born June 3, l839 in Madison, Ind. First marriage to Elizabeth GILTNER (sp?). Second marriage to Rebecca Jane SHAFER in Missouri, then moved to Lincoln County, Sylvan Grove, Kansas. Any information would be appreciated. email mylady@ruraltel.net
---
donwood@indiana.edu - 08 March 2000
Looking for LIMPUS and HORTON 1870s+
donwood@indiana.edu
---
lilyvalentine@earthlink.net (email is not working) - 09 March 2000
I am trying to find out information on my true grandfather. He was Emerson McREYNOLDS. When he married Pearl Elizabeth TURNER she was 14 years of age and he was 21. She was born 2 Sep 1907. I know he was born in Colorado and spent most of his life in prison, however, he did not die in prison. This is the extent of what is known about him. Can you help or direct me elsewhere?

Further they moved to Oklahoma and she remarried to Lester Hillman 10-16-26 but she was back in Kansas at that time, so I don't know if their divorce was in Oklahoma or in Kansas.

Most everything concerning the Turner family though was in Lincoln county.
Emails to Cheryl Gowan are bouncing. If you know this person please have her contact us with a new email address.
---
Bernadette Hollowell (email: bhollowell@aepnet.com) - 19 March 2000
In the 1885 Lincoln County Kansas Census Township: Golden Belt, it lists a J. HOLLOWELL, Mary HOLLOWELL, Delila HOLLOWELL, Rosa HOLLOWELL and George HOLLOWELL. I am a descendent of George and we are looking for any information on him or any of his family. Please mail me at bhollowell@aepnet.com Thank you Bernadette Hollowell
---
Aly Farris (email: afarris@kscable.com) - 14 April 2000
I am looking for any information on John, Lucy J. and Annis SPEARS. They moved to Cedron Township, Lincoln County, Ks. in 1884 from Washington County, Ohio. Lucy died in 1889 and is buried in Spillman Cemetery in Hunter, Ks. John died in 1913 and is also buried in Spillman Cemetery. Annis SPEARS died in 1952 and is buried in Rose Valley Cemetery in Hunter, Ks. Any information would be appreciated.
---
Bill (email: rockingchair57@msn.com) - 20 July 2000
Peter FOSTER, wife Millicent, of Linclon Co. 1875 ..... Peter and Millicent were married around 1875. They had two sons born there: John & Charles. They moved to Oklahoma. Any information would be appreciated.
Bill -- rockingchair57@msn.com
---
Mary Thiele Fobian (email: metaphor@mbay.net) - 03 Aug 2000
RUPINs....... An "A. RUPIN" (either Adam or Anton--father and son both were doctors) is listed in Lincoln County Kansas Medical Personnel, "Register of Physicians & Accoucheurs" section, Annual report of the State Board of Health of the State of Kansas, 1887. Listed as living at Sylvan Grove, Lincoln County, KS. Is there a historical society for Lincoln County or anyone who can do lookups and provide photocopies?
metaphor@mbay.net
---
Mike Woody (email: metaphor@mbay.net) - 13 Aug 2000
WOODY - CROWL - MCDONALD - BOWLIN
I am interested in any and all Woody family members in Lincoln County Kansas. E-mail address: woodygap@proaxis.com
---
Kathy Lupfer-Nielsen (email: knielsen@oznet.ksu.edu) - 21 Aug 2000
I am an independent researcher working on Anna CHURCHILL WAIT...just wondered if anyone knows what happened to her daughter in law, Lillian. The son Alfred is buried in Lincoln cemetary with the parents, Walter and Anna and I haven't found Lillian...just curious as to what might have happened to some of Anna's personal items.
I would appreciate any information about WAITs of Lincoln County.
Kathy Lupfer-Nielsen
---
Vivian James (email: byjames@yahoo.com) - 27 Aug 2000
DILLE family of Kansas.
My great grandfather is Asa Jackson DILLE. His daughter Myrtle DILLE was born in Lincoln Co. KS in 1890. Her motherís name was Lillie. Asa DILLE is listed on the 1885 Census Lincoln Co.Township: Franklin. I would appreciate any information on the Dille family. I am willing to share my information.
Thank you,
Vivian James
byjames@yahoo.com
---
Jo Anne Peck (email: TWNSUPER@aol.com) - 17 Oct 2000
DOUGLASS and LYNE
I am interested in finding any information on the following family (information here is from the 1885 Lincoln County Kansas state census):
F. M. (Francis Marion) DOUGLASS 43
Lucinda 36
Alva 13
Emet 11
Moody 9
Ira 5
Rhoda 1
This information is from the 1885 Golden Belt Twp, Lincoln Co. census. This is my great-great-uncle and am looking for any information on the family and heirs of Francis Marion Douglass. Also on his sister Sarah Lyne and her children. The information that I have on them is also from the 1885 Valley Twp, Lincoln Co census:
I. M. (Israel) LYNE
Sarah A.
William E.
Howard E.
Thomas L.
Adah L.
Sarah died 12 March 1939 in Lincoln, Lincoln Co, Ks (obit in Lincoln Sentinel-Republican 23 March 1939. She had three more children - Grover C., Harlin L and Viola G. I am searching for any information and any family members.
Jo Anne Peck - 1020 18th Avenue - Moline, Il 61265 - e-mail; twnsuper@aol.com
---
Shirley A. Towse (email: towse@horizon.hit.net) - 25 Oct 2000
SMITH, QUINN and PAGAN
I am looking for information on my great grandfather, Chalmer SMITH. He was one of the scouts with General Forsyth at the battle of Beechers Island. I have read some histories of this battle and assume that Chalmer SMITH was a very young man at the time; so I guess he was born about 1845 to 1850. He died in Beverly, Kansas on March 31, 1919. He married Katherin QUINN and they had a Daughter Josephine Mary SMITH (Josie) who was born July 4, 1887. I have heard that Katherin QUINN SMITH died during childbirth or very shortly after. I would like to know if these facts are true; if they had any other children; and if so, where are the decendants. Josie married John Joseph PAGAN and they lived in Beverly during part of their marriage. They had a son and a daughter, Leone (my mother) born in Beverly on November 18, 1912. About all I know about this side of my family is that Leone had a cousin named Doris PAGAN and they loved to visit with Grandpa Chalmer SMITH and his freind Jack PEATE. My mother learned about the battle from them, but she was only seven years old when Grandpa SMITH died. I don't know much about the PAGAN family and nothing about the SMITH family. If anyone can give me some more information, I would appreciate it.
---
Gerry Oehler (email: digers@sk.sympatico.ca) - 28 Dec 2000
Thanks in advance for your attention. I'm looking for any information with regards to my grandfather: John K. OEHLER. Born at Sylvan Grove in 1897. Also looking for any history that would help me locate the land that my G-Grandfather Jacob OEHLER farmed for 10 years near Sylvan Grove. They farmed that land from 1892 until 1903. They then moved on to Oregon, then finally Canada. My grandfather often talked about the river that flowed thru that land. All my grand-father used to talk about, was his childhood in Kansas. I would love to visit Lincoln County some day, and hope to even find the land he so fondly talked about.
Thanks
Gerry Oehler -- Saskatchewan, Canada
---
Return to Query Directory Page
---
| | | |
| --- | --- | --- |
| | | &nbsp &nbsp |
DO YOU HAVE
QUESTIONS, COMMENTS, CONTRIBUTIONS FOR US?
Bill and Diana Sowers
, Lincoln County Coordinators
Tracee Hamilton, Lincoln County Coordinator
Click HERE for more information on Bill and Diana Sowers.

Home Page for Kansas
Search all of Blue Skyways
---
Copyright 1997, 1998, 1999, 2000 by Tracee Hamilton, Bill and Diana Sowers