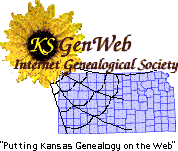 St. John Lutheran
Ends Services
in German
---
Lincoln County News, Dec. 18, 1941
Following the declaration of war on the United States last week by Germany and countries under German domination, the people of St. Johns Lutheran church through their pastor, Rev. H. Kroening, anounced this week that henceforth all services of their church will be conducted in the English language. Previously, some of the services had been conducted in German for the benefit of older members who understood the services better and enjoyed them more when conducted in the language of their youth. The church is attended principally by Americans of German descent, many of whom have near relatives who are veterans of the A.E.F. in the World War or who are now in service, many as volunteers, in the U.S. army or navy.
---
Return to:[Lincoln County Kansas Genealogy][Lincoln County Kansas Queries]
---
DO YOU HAVE
QUESTIONS, COMMENTS, CONTRIBUTIONS FOR US?
Bill and Diana Sowers
, Lincoln County Coordinators
Tracee Hamilton, Lincoln County Coordinator
---

Home Page for Kansas
Search all of Blue Skyways
---
Copyright 1997, 1998 by Bill and Diana Sowers