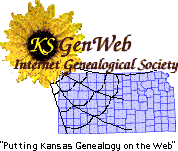 Phil Noon
Recalls Visits
by Famous Frontiersmen
---
Lincoln County News, 8 July 1943

Phil Noon, who first came to Lincoln county in the fall of 1867 at the age of 9, remembers seeing such notables as General Grant, General Phil Sheridan, General George Custer, Wild Bill Hickok and Buffalo Bill Cody in the early days around Junction City, Fort Riley and Fort Harker, and he saw General Custer several times in Lincoln county when he came to inspect the cavalry outpost established in the early 1870s near the present Spillman bridge on Highway 18 to protect settlers from Indians.
Mr. Noon's father, the late Pat Noon, worked at Junction City and Fort Harker, now Kanopolis, and came to Lincoln county in 1867 and staked out a claim, which he lost to a claim jumper who later offered to sell it back to him for the cost of the improvements. Workers at the fort obtained a year's credit on their homestead rights by their work. The elder Mr. Noon continued to work at the fort but returned to Lincoln county in 1874.
He bought a place one morning of that year and the same afternoon the grasshoppers came, but the Noons stuck it out. Phil, then 15, drove seven or eight head of cattle on foot from Junction City to their new home.

Liked the Hunting and Fishing


But after Phil first came to Lincoln county he spent most of his time on the homestead of his uncle, Tom Noon, about halfway between Lincoln and Vesper. The main consideration in his love for Lincoln county at that time, he says, was the excellent hunting and fishing.
Elk, antelope, buffalo and wild turkey were plentiful and there were a few deer. The few settlers in the county hunted turkeys on moonlight nights, shooting them off their roosts and taking only what they needed. But the game hogs moved in and he remembers seeing wagonloads of turkeys hauled into Junction City from up the Republican river.

Lots of Wild Game


He never shot a turkey himself, but went along to carry the turkeys shot by others. One of his biggest bags of game was a giant bobcat which was about five feet long when stretched out. Beaver were plentiful and one trapper working along the Saline once took 200 pelts in a season.
Buffalo meat was a standard article of diet, and corn grew tall. At a subscription school held one year in that neighborhood, the standard school lunch consisted of a hunk of buffalo meat and a big roasting ear or two.
Wheat wasn't raised to any great extent because there was no market for it at the time nearer than Salina, Ellsworth and later Wilson.

Wheat Farming the Hard Way


The first wheat raised in that part of the county was 7 acres of spring wheat by his until Tom in 1871. There was no harvesting machinery, but a Danish settler named Olaf Nelson put slats on a scythe and made a sort of cradle with which it was cut. It was bound by hand with straw, shocked, and stacked.
There was a picturesque Kentuckian in that community then, who was notable for carrying guns and for his skill at railsplitting and other woodwork. He made the "threshing machine" which consisted of a wooden frame about 10 feet long 5 feet wide and 2 feet high, with the top covered but with slits between the wood. The wheat was laid on the frame and the men threshed it with flails. The grain fell through the slits onto a wagon sheet.
On a windy day, which was a common then as now, they winnowed the chaff out and got 45 or 50 bushels of clean wheat, besides some food and seed.

Half of Wheat for Hauling


Then came the marketing. They gave a neighbor half of the wheat to haul it to Salina and bring back the flour, bran and shorts. It wasn't much wonder Lincoln county wasn't a wheat country then.
Except for little patches broken out for crops, everything was grass and free range. Cows were turned out in the morning. Calves were kept at home so the cows would come home at night. Sometimes they did, and sometimes they had to be hunted.
There were quite a few cattle, most farmers had oxen and ponies, but only a few had good horses. Cavalry Camp on Spillman
It was in the early 1870s that the detachment of the 7th cavalry out of Fort Harker spent a couple of summers at its camp on the Spillman. The camp was on land owned by a Jenkins family then and now owned by the Sheldons. It was just north of Highway 18 along the Spillman. The camp was laid out with the tents arranged like houses and streets. A big tent near where the Sheldon house now stands served as a hospital. The only permanent building on the camp site, as he recalls it, was the log guardhouse.
The camp occupied some 25 or 30 acres and the detachments sent here consisted of about 200 men and their horses. They came out only in summer when the danger of Indian raids was worst and returned to the forts in winter. During the time they were here there were no raids, although a few years before, in the 1860s, several settlers were killed.

General Custer Makes Inspection


General Custer made several inspection trips to the camp, Mr. Noon says, and he saw him there. That was only a few years before Custer and his men were massacred in 1870 in Montana. Custer, as Mr. Noon remembers him, had a peculiar yellow glint to his long hair.
The arrival of the troops brought about the only taste of prosperity known by the early settlers. They bought milk and butter and other food from the surrounding farms, paying 10 cents a quart for the milk and 40 cents a pound for butter. At Ellsworth, where there were more farmers and more cows, butter was 10 and 15 cents a pound. The cavalry was glad to pay for the fresh milk to avoid using the canned milk of the army rations.

Delivered Produce to Camp


Phil's business at the camp was delivering milk and butter from his uncle's farm about two miles south. While there he naturally took in the sights and he remembers seeing George Bird, Dave Hendrickson and the late J.R. Hendrickson at the camp on similar missions.
Included in the camp's layout was a store operated by George Green for the troops. It was a small affair, half dugout and half above ground, in the bank of the Spillman, where the soldiers could spent a sort of scrip issued them for their pay.
One thing that impressed Mr. Noon about the army's manner of life was their coffee roaster. The regular stock of coffee was green, but the cavalrymen had a big roaster in which they parched their coffee before using it.
The cavalry had several cooks, Mr. Noon says, and they were good ones. The soldiers also did some of their own cooking. Wild game furnished most of their meat and for want of Indian trouble, the soldiers had some time to hunt.

Sheridan Here Too?


Tradition is that General Sheridan also inspected the outpost on the Spillman when he visited Fort Harker, but Mr. Noon doesn't remember seeing him there. However, he saw Sheridan and Grant make their tour of inspection at Fort Harker and saw Buffalo Bill at Junction City shooting at and hitting small targets tossed up by others long before he acquired fame as a marksman during his tours with his wild west show.
As he looks back on those days, Mr. Noon says they contain many interesting memories, "but," he adds, "I had better have been in school." His education, like that of many pioneer boys, was meager. He attended school only six months, yet he became a great reader and his interest in the early history of the county has led him to collect a large quantity of newspaper articles dealing with that subject.
---
DO YOU HAVE
QUESTIONS, COMMENTS, CONTRIBUTIONS FOR US?
Bill and Diana Sowers
, Lincoln County Coordinators
Tracee Hamilton, Lincoln County Coordinator
---

Home Page for Kansas
Search all of Blue Skyways
---
Copyright 1997, 1998 by Bill and Diana Sowers