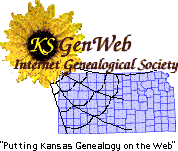 St. Patrick's
Catholic Church
Dedication
---
"Dedication of Catholic Church"
From the Lincoln Sentinel, June 20, 1907
On June 7, 1907, St. Patrick's Catholic church at Lincoln was dedicated. The ceremony of dedication began promptly at 10 o'clock in the morning and was witnessed by a large crowd of people.
Bishop Cunningham, of Concordia, Kansas, performed the ceremony assisted by Fathers Maher, McNamara, O'Riley, Glynn, Luckey and Pierere.
Immediately following the dedication Solemn High Mass was celebrated the first in the new church, then followed the confirming by the Rt. Rev. Bishop of a class of twenty, the services closing with benediction.
The interior of the new church was an object of admiration of all present regardless of religious belief. The choir under the careful training of Dr. Rucker rendered the difficult mass in a highly pleasing manner. The following persons composed the choir viz. Mrs. Margaret Whalen, Misses Julia Mulloy, Emma Ryan, organist Maggie Mulloy, Mrs. Lyon, Mrs. Minx, Dr. Rucker, James and John Mulloy. Rev. Father Maher, of Salina, Kansas, delivered the sermon and impressed his audience as a man of singular eloquence and ability. In the course of his closing remarks he expressed many words of thanks and appreciation to the non-Catholics who have so generously assisted in the building of the new church.
---
Return to:[Lincoln County Kansas Genealogy][Lincoln County Kansas Queries]
---
DO YOU HAVE
QUESTIONS, COMMENTS, CONTRIBUTIONS FOR US?
Bill and Diana Sowers
, Lincoln County Coordinators
Tracee Hamilton, Lincoln County Coordinator
---

Home Page for Kansas
Search all of Blue Skyways
---
Copyright 1997, 1998 by Bill and Diana Sowers