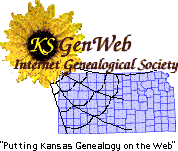 Sylvan Grove
Hotel Is
Torn Down
---
Lincoln Sentinel-Republican, 25 September 1997

The ghosts of many travelers will no longer walk the halls of the Sylvan Grove Hotel. It is thought to have been built sometime between 1891 and 1895. Now, after 100 years, the historical old building has been torn down. It will remain only in the memories of local residents and, perhaps, within the pages of personal journals, written to record visits and time spent there.
One such journal remains in the keeping of Richard Urban, Ellsworth, and his brother Doyle Urban, Sylvan Grove. It is a genealogical record of their ancestors, the Boyle family. A little bit of reading revealed that their grandparents, Isaac Newton and Emma Catherine Boyle, ran the hotel for 16 years in the early 1900s.
Journal entries indicate I.N. Boyle was born in 1845 in Ohio. In 1861, at the age of 16, he enlisted at a Union soldier in the Civil War. He was wounded in the Battle of Chickamauga in 1863, and was "mustered out Oct. 17, 1864, by reason of expiration of enlistment." He then visited a sister in Plattesville, Ohio, where he met his future bride Emma Beezley. They married in 1868 and lived in Ohio and Illinois before moving to Graham County, Kan., in 1879. They farmed near Hill City.
In 1907, the Boyles traded their farm in Graham County for the Sylvan Hotel in Sylvan Grove. They managed the hotel with the help of their daughters, Ina and Frances. Frances graduated from Sylvan Grove High School and in 1917, married George H. Urban at Lincoln.
The journal entry concerning the Boyles ownership indicated, "Mrs. Boyle was an excellent cook and Mr. Boyle became a capable hotel manager. The family was active in church and community affairs and Mr. Boyle, who was a staunch, 'Stand Pat' Republican, continued his interest and activity in current political issues."
The Boyles celebrated their 50th wedding anniversary in 1918 during their stay in Sylvan Grove. An account of the event was printed in the Dec. 5, 1918, issue of The Sylvan Grove News. The article expounded the couple's proprietorship of the hotel, saying "It is not everyone who can keep a hotel … they made it a home for travelers. They treated folks so kindly that two of their boarders, E.C. and Charley Raffety, have been with them eleven years … Mr. Boyle seemed a father to so many that a number of his friends affectionately called him Dad."
The anniversary celebration as described in the 1918 article, was "a royal Thanksgiving feast" prepared at the Cozy Theater. Close to 80 friends from Hill City and Sylvan Grove joined together to observe the couple renew their vows.
Five years later, in 1923, the Boyles celebrated their 55th anniversary. It was the last weeding anniversary they would celebrate while owners of the hotel. I.N. Boyle broke his hip in a fall in the summer of 1924 and died shortly after in January 1925. His widow Emma died three years later in 1928. They were both buried in Hill City.
According to dates in the journal and references to newspaper articles, the ownership of the hotel then passed on to Reinhold W. Wohler. Wohler is believed to have owned the hotel for the longest period of time.
Ownership of the Sylvan Grove Hotel has changed hands several times over the years. Other owners include Mr. and Mrs. Fred W. Van Wie; Reinhold W. Wohler; Fred Meyer Jr.; Mr. and Mrs. George C. Corbett; Christine Reinert; Maxine Palmer; Eunice Oller; Dorothy Naegele; Thelma Warth; and the current owner, Paul Seirer.
Seirer and a work crew dismantled the hotel in early September. Future plans for the vacated lot have not been disclosed.
---
Return to:[Lincoln County Kansas Genealogy][Lincoln County Kansas Queries]
---
DO YOU HAVE
QUESTIONS, COMMENTS, CONTRIBUTIONS FOR US?
Bill and Diana Sowers
, Lincoln County Coordinators
Tracee Hamilton, Lincoln County Coordinator
---

Home Page for Kansas
Search all of Blue Skyways
---
Copyright 1997, 1998 by Bill and Diana Sowers