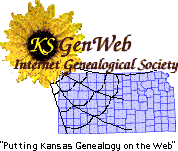 Death
in the
Tornado
---
Lincoln Republican, 28 May 1908
Lincoln county was swept by a severe storm at an early hour last Thursday morning [May 21]. Much damage to property resulted all the way from near Vesper to the east and southeast part of the county. The only loss of life and the greatest single loss of property was at the home of Fred Groth, four miles south of town. Here the storm assumed the proportions of a tornado, completely wrecking Mr. Groth's house, a granary and a windmill, and breaking up other property.
Mr. and Mrs. Groth were downstairs and the children upstairs. All were in bed asleep. Being awakened by the storm they had gotten out of bed and were dressing when the house began to go to pieces. The work of destruction was soon completed. Mr. Groth was badly bruised and cut about the head but remains consicous and soon extricated himself from the debris. The three children were soon found to be unhamed. They began a serach for Mrs. Groth, which lasted until daylight, when she was found in the edge of the wheatfield about 200 feet from where the house had stood. She was unconscious when found and lived but a very short time.
The path of the tornado was quite limited. An old frame corn crib 20 feet from the granary was uninjured, while a few steps the other way was a large tree that shows no effects of the storm. But in its path the fury of the tornado knew no bounds. Apparently, the granary was carried bodily over two wire fences and across a small hill a distance of about 500 feet; then it was broken into small pieces and scattered for half a mile. Large stones were carried about like newspapers in a spring zephyr and left several hundred feet from the place they were picked up by the storm. The destruction in a path probably 150 feet wide was complete. The only surprise is that any of the family escaped alive.
Many people visited the scene of disaster Thursday and tendered what little assistance they could give to the grief stricken family.
The general storm did much damage to windmills, barns, trees, small buildings and other property over the southeast third of the county. Many who were carrying cyclone insurance have filed proof of their claims with the various insurance agents – one of whom has estimated the losses as high as $50,000.
[Dorothea Groth is buried in St. John Lutheran Cemetery.]
---
Return to:[Lincoln County Kansas Genealogy][Lincoln County Kansas Queries]
---
DO YOU HAVE
QUESTIONS, COMMENTS, CONTRIBUTIONS FOR US?
Bill and Diana Sowers
, Lincoln County Coordinators
Tracee Hamilton, Lincoln County Coordinator
---

Home Page for Kansas
Search all of Blue Skyways
---
Copyright 1997, 1998 by Bill and Diana Sowers