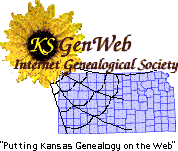 Vesper
Church
History
---
"Vesper church to mark 110th anniversary"
From the Lincoln Sentinel-Republican, Sept. 11, 1986, Page 1
The public is cordially invited to take part in the 100th anniversary celebration of the Presbyterian Church of Vesper Sunday, Sept. 14.
Elders participating will be Lois CHENEY, Jane Ann SERRIEN and Fred ZVOLANEK.
As she has for 41 years, Dorothy BLOCK will be at the piano for the day of celebration.
Numerous improvements, many of them possible through gifts and memorials, have been made recently as the congregation prepared for the Sunday anniversary festivities. They include new hymn books, attractive new green velvet pew cushions, folding tables and chairs, ceiling fans, storm windows, seasonal pulpit hangings, an outside light and coat racks.
The exterior has new siding. A new sign designates the church and hour of worship.
"Vesper is in the parish ministry with the Sylvan Grove Presbyterian Church," Pastor Thomas R. HENSTOCK said. They have shared parish ministry with Lincoln, Shiloh and Westfall churches.
He related that the community is named Vesper because evening prayers or Vespers were held every night on the vast prairie as the community was settled.
Dating back to 1875, Vesper Presbyterian church services were first held in a schoolhouse just south of the Vesper Cemetery. In 1901, the congregation built the present church located west of Lincoln and one mile south on Vesper Road.
Interestingly, the schoolhouse in which services were first held 110 years ago was moved a short distance north of its original site, and is now part of the Duane CHENEY home. And the CHENEYs are members of the Vesper church congregation.
Thirty-one pastors have led the worship and witness of more than 322 members since the church -- one of about 30 -- was founded by the Rev. Henry Chase BRADBURY in 1875.
Only approximately 12 of the old BRADBURY churches remain.
Today at Vesper Presbyterian Church, the congregation numbers 40 members.
---
Return to:[Lincoln County Kansas Genealogy][Lincoln County Kansas Queries]
---
DO YOU HAVE
QUESTIONS, COMMENTS, CONTRIBUTIONS FOR US?
Bill and Diana Sowers
, Lincoln County Coordinators
Tracee Hamilton, Lincoln County Coordinator
---

Home Page for Kansas
Search all of Blue Skyways
---
Copyright 1997, 1998 by Bill and Diana Sowers