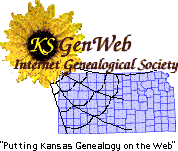 Anna Wait
Honored Among
'A Hundred Kansas Women'
---
Lincoln Republican, 1 April 1909

Margaret Hill McCarter, who has been writing a history of "A Hundred Kansas Women," who have helped to upbuild Kansas, has included Anna C. Wait, of Lincoln. In the Sunday Capital of March 21, she says:
"Whatever you do" a friend said to me, "Don't forget Mrs. Anna C. Wait of Lincoln."
Mrs. Wait is in the honor roll of those who are now past 70 years and still alert and interested in living. She was born at Hinckley, Ohio, in the same year that Queen Victoria was crowned. Her maiden name was Anna C. Churchill, and her ancestry is not wanting in blue corpuscles. The Marlboro family are her blood relations. Winston, Spencer and George family names among her relatives. The Churchills came to New England and settled in Connecticut.
Anna received her education at the Richfield academy and the Twinsburg institute. Excepting Oberlin there were no colleges open to women in her day of schooling. Sometimes when my good anti-suffrage friends piously get by on the other hand when the ballot for women is considered I wonder if they ever consider how it was equal political rights for women that opened our college doors and gave to our daughters the right to higher learning or the respectability of teaching college classes.
Miss Churchill was married in 1857. She was only 19 years of age.
Her husband, Walter S. Wait, was a teacher who in '58 took his wife to Missouri. It is stale to poke fun at Missouri today, but 50 years ago the Waits found there only danger and hardship to such a degree that they were compelled to move to Illinois. Here Mr. and Mrs. Wait engaged in teaching.
When the war between the north and south was on Wait became captain of Company H of the 50th Illinois Volunteers. And when the war was over the west beckoned temptingly to the sturdy pair. In 1871 they went with the emigrant tide to Salina. From there they went to Lincoln, in Lincoln county. Here Mr. Wait died in 1900.
Among the members who did things in Lincoln and the whole country there abouts was Mrs. Anna C. Wait , whom I call the dean of the community. Naturally the beginning was in the schools where she was the teacher. In 1872 in a little one roomed house the first school was opened. The house, by the way, was also Capt. Wait's law office. Also, too, it was Mrs. Wait's parlor as well, and her dining room, library, bed room, reception hall and kitchen besides. And it was just 10 by 22 feet from tip to tip. If you had to live in your husband's law office and make its 10 by 22 feet your entire home, beloved, you can not get along now without the finished attic, would you feel the need of your community enough to open your door (not doors) and take in 30 children and give them – what is their divine right to have an education?
It is said that there are middle aged men and women in Lincoln today, broadminded, capable, scholarly men who will tell you there never was a better school than this little first school taught in Capt. Wait's law office by this scholarly woman. But Mrs. Wait did more than to instruct. Her influence was used for other teachers. With her husband, in 1877 she organized the first normal institute. And beloved, it is the normal institute that can sow the seed for an everlasting harvest. It can do more to shape and bend the young mind toward teaching spiritually as unto the Lord and not unto man than any college of liberal arts can ever claim to do. In Lincoln county there were only 23 teachers, and unless there were 50 names on the pair enrollment the state could pay no expenses. Yet those 23 teachers and the children they would teach had needs as great as 23,000 teachers might have. So Capt. and Mrs. Wait evolved a saving plan. They secured the paid enrollment of the business men to help out the number deficit and the normal went on with its work. In a wide reach of territory Mrs. Wait became personally known and no bounds can ever be placed on her wholesome uplifting influence as a teacher and a friend of teachers. She it was who gave form to the education thought and established the education ideas of her part of Kansas, who made history no less than Jim Lane and John Brown, albeit, it was a spiritual life record that unfolded after her instead of a record of blood and thunder, and the cheap thing men call political success.
In 1880 Capt .Wait purchased a newspaper, the Beacon, which for 20 years until Mr. Wait's death, he and his wife, assisted by their son, Alfred H. Wait, educated and published. This Beacon was well named. It was a light to guide the public. It was what it is the high privilege of every newspaper to be, a power to mold the public mind and stay the public conscience. It was fearless to the last limit, so it came to stand where every brave spirit may stand, soon or late, above the danger line of criticism. It began its career as a Republican paper with prohibition, antimonopoly and woman suffrage for its watchwords. Later when it could no longer call itself Republican and adhere to these three principles it let go of the Republican part and for 12 years lived successfully. The Beacon office and contents were destroyed by incendiary fire in 1901. Mrs. Wait was the power behind the press in that printing office, helping to put every issue that strong, fearless defense of the right that is one of the world's great joys. As a woman editor, Mrs. Wait would have her place in Kansas history.
One more activity, however, must be considered. Not only was Mrs. Wait one of the first and best teachers of Kansas, and one of the able editors; she has been a leading spirit in that greatest of all women's work, the development of suffrage.
The Lincoln Suffrage Association was organized in 1879, 12 years after the defeat and seeming death of the suffrage cause in the Legislature in 1867. This was said to be the first movement in 12 years for the lost cause, and Mrs. Wait was the prime mover. In seven years woman all over Kansas had municipal suffrage. It was the women of Lincoln backed by the weekly column in the Lincoln Beacon that did more powerfully sway the affairs of stats in those memorable years of real legislation in Kansas.
When the full history shall be written out, among the women who have done most for the state will be found the name of Anna C. Wait, teacher, editor and more yet.
---
Return to:[Lincoln County Kansas Genealogy][Lincoln County Kansas Queries]
---
DO YOU HAVE
QUESTIONS, COMMENTS, CONTRIBUTIONS FOR US?
Bill and Diana Sowers
, Lincoln County Coordinators
Tracee Hamilton, Lincoln County Coordinator
---

Home Page for Kansas
Search all of Blue Skyways
---
Copyright 1997, 1998 by Bill and Diana Sowers